What is the Housing For All Scheme
Indira Awas Yojana or IAY is one of the first centralised housing schemes for Indians. It was introduced by the then Prime Minister, Rajiv Gandhi, in 1985.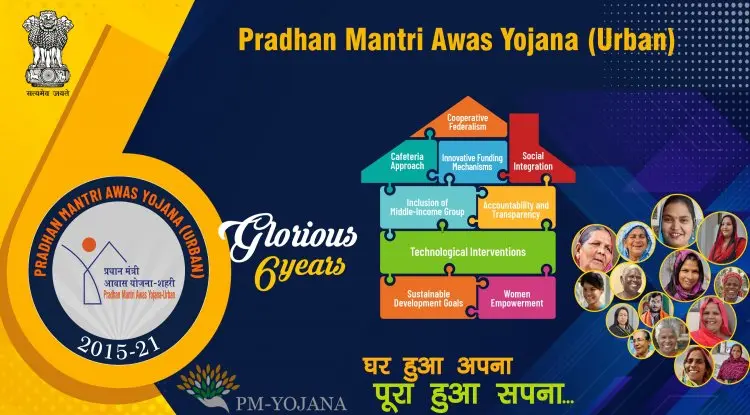 What is the Housing For All Scheme
What is the Housing For All Scheme
Indira Awas Yojana or IAY is one of the first centralised housing schemes for Indians. It was introduced by the then Prime Minister, Rajiv Gandhi, in 1985.
Launch Date: Jun 25, 2015
Pradhan Mantri Awas Yojana
Introduction
Having a home is a human right which, sadly, is not available to a large chunk of the Indian population. It is an economic, cultural, and social right to shelter and is recognized in certain national constitutions and the Universal Declaration of Human Rights. Housing is a part of the right to an adequate standard of living. Being homeless is not just a temporary inconvenient situation, it has long-reaching consequences, in various forms, for an individual as well as society. Homeless people have higher premature mortality and chronic health consequences. According to the data provided by the 2011 census, approximately 1.77 million people are homeless in India, of which 65.3% are concentrated in the five states; Uttar Pradesh, Maharashtra, Rajasthan, Madhya Pradesh, Andhra Pradesh, Gujarat. For solving this issue, the Indian government has come up with a variety of affordable housing schemes on numerous occasions. Some such schemes will be discussed in this article and their effectiveness will be evaluated.
Government schemes on Affordable
Housing
Pradhan Mantri Awas Yojana-Urban
Pradhan Mantri Awas Yojana was launched on 25th June 2015 as a 'housing for all' initiative. It is considered as the driving force to make available affordable housing facilities to all in the urban areas. The implementation period for this scheme is from 2015 to 2022. Under it, the Government provides central assistance to the implementing agencies through States/Union Territories and Central Nodal Agencies. The States and Union Territories have been given the power to approve projects which confine to the framework provided in the mission guidelines. This scheme also continues the government's efforts towards women empowerment by mandating the female head of the family to be the owner or co-owner of the dwelling unit under this mission. The scheme has been divided into four parts or four options based on income, finance, availability of land and, such other factors.
"In-situ" Slum Redevelopment (ISSR)
Under this option, the central assistance of rupees 1 Lakh per house will be made available for all the houses built for the slum dwellers who are eligible. In-situ Slum Redevelopment (ISSR) is an initiative to use the land as a resource with the participation of private developers. Flexibility is emphasized under this option as the States or Union Territories are permitted to utilize the rehabilitation grants for any of the slum redevelopment projects. Under the guidelines, it is recommended that the State or Union Territory denotify the slum after redevelopment.
Credit Linked Subsidy Scheme (CLSS)
Under this option, provision for subsidy, on loans from Banks, Housing Finance Companies, and other such institutions for acquiring or constructing houses, is made. Under this, the beneficiaries have been divided into three groups:
Economically Weaker Section (EWS) or Low Income Group (LIG)
The annual household income limit for the EWS category is rupees 3 lakhs. They are eligible to avail 6.5% of interest subsidy on loans of up to rupees 6 lakhs for twenty years or loan tenure, whichever is lower. The house size or the maximum carpet area must be 30 square meters.
The LIG category is also eligible for 6% subsidy on a loan of rupees 6 lakh for 20 years or loan tenure, whichever is less. But the maximum carpet area allowed for the house is 60 square meters. For both the categories, i.e., EWS and LIG, the maximum amount of subsidy is rupees 2,20,000.
Middle Income Group- I (MIG-I)
Households with an income limit between 6,00,001 to 12,00,000 are eligible for an interest subsidy of 4% on a loan limit of 9 lakh for twenty years or loan tenure, whichever is lower. The maximum carpet area for this is 160 square meters.
Middle Income Group- II (MIG-II)
Here, the households with an income between 12,00,001 to 18,00,000 are eligible for a subsidy of 3% on a loan limited at 12 lakh for twenty years or loan tenure, whichever is less. The maximum carpet area for this is 200 square meters.
The scheme for the MIG category was initially approved for implementation for the year 2017. It has now been extended until March 2021.
Affordable Housing in Partnership (AHP)
Under this, the Government of India will provide central assistance of rupees 1.5 lakh per EWS house in those projects where, at least, 35% of the houses are for the economically weaker section category, and a single project consists of at least 250 houses.
Beneficiary-led individual house construction or enhancement (BLC)
This component provides central assistance to individual EWS category families who are eligible. The assistance of rupees 1.5 lakh per house will be provided for the construction of new or enhancement of existing houses. Enhancement, for this purpose, means the addition of a minimum carpet area of 9.0 Square Meters into the existing house with pucca construction of at least one habitable room or room with kitchen and/or bathroom and/or toilet conforming to National Building Code of India norms. The total carpet area after enhancement must not be less than 21 sqm and must not exceed 30 sqm.
The Middle Income Group was included in the scheme by an amendment in 2017.
The beneficiaries, to be eligible to avail the benefits under the scheme, must not own a house or avail the benefits of any other housing scheme by State or Central Government.
Critical Analysis (PMAY-U)
The Pradhan Mantri Awas Yojana has adopted a decentralised system of financing the development and construction of the housing. But, due to a gap between people's aspirations and capabilities and the state's imagination regarding housing, the speed of the mission has been somewhat sluggish. Ownership of land is a prerequisite in the BLC and CLSS options, and most of the urban slum households do not own land and are thus ineligible under these options. Also, the absence of certain security documents with the people who want to avail the benefits under these options has led to their inability in doing so.
The scheme's attempt to promote women empowerment by mandating a female head as owner or co-owner of the property is laudable. A total of 1.04 crore houses were sanctioned under PMAY-U out of which around 33.50 lakh have been constructed and delivered and around 64 lakh units are at various stages of construction. Extension of CLSS till 31st March 2021 has opened up benefits for MIG categories and in recent developments, the government has announced the conversion of government-funded housing in urban areas into Affordable Rental Housing Complexes. A public-private partnership model will be implemented here. With its various pros and cons, the overall outlook on the scheme is still inclined to be optimistic.
Pradhan Mantri Gramin Awas Yojana
The Pradhan Mantri Awas Yojana has two parts, Urban, and Rural. This scheme caters to affordable housing for all of rural India except Delhi and Chandigarh. Formerly, it was known as Indira Awaas Yojana when it was launched in 1996. It was restructured in April 2016 as PMAY-G aiming to provide pucca houses to all the people living in dilapidated establishments. The houses will have the basic amenities such as power supply, sanitation, etc. Thus, people not having any house and living in dilapidated and kutcha houses are eligible to apply for benefits under this scheme, there are around 1 crore families living in such dilapidated houses. The minimum house under this scheme is provided to be 25 sq. m. The unit assistance provided under this program is Rs. 1.20 lakh for houses to be constructed in plains and Rs. 1.30 lakh for houses to be constructed in difficult areas, hilly states and Integrated Action Plan (IAP) districts.
The beneficiary is entitled to 90/95 person-days of unskilled labour from MGNREGS (Mahatma Gandhi National Rural Employment Guarantee Scheme), under PMAY-G.
Central and State Governments shall share the cost of building houses in the ratio 60:40 for houses constructed in plain areas and 90:10 for houses constructed in three Himalayan States (Himachal Pradesh, Uttarakhand and Jammu and Kashmir) and the North Eastern States.
The scheme, collaborated with other Government schemes, such as Swachh Bharat Mission- Gramin (SBM-G), will ensure the provision of basic amenities such as electricity, water, toilet, clean and efficient cooking fuel, treatment of social and liquid waste, etc.
The use of local materials, appropriate design and trained masons will focus on quality house construction. The selection of beneficiaries will be done using housing deprivation parameters in the Socio-Economic and Caste Census (SECC), 2011 data, which will be verified by the Gram Sabhas. Beneficiaries will also be given technical assistance in the construction of the house.
The National Technical Support Agency (NTSA) is envisioned to set-up so that a better quality of construction can be ensured. A willing beneficiary will be facilitated to get a loan of up to Rs. 70,000 from lending institutions. All payments to the beneficiary will be electronically transferred to their bank or post office accounts that are linked to Aadhaar with consent.
Critical Analysis (PMAY-G)
The scheme is to operate in two phases, 1 crore houses were to be constructed under phase I from 2016-2019 and the remaining 1.95 crore houses are to be constructed in phase 2 ending in 2021-2022. The construction of pucca houses with basic amenities such as water, sanitation, cooking area, etc. has provided a dignified life to the residents of rural India. The provision to identify the beneficiaries through the Socio-Economic Caste Census has brought in transparency to the system. PMAY-G has also contributed to the generation of additional employment and income by increasing the labor and demand for construction materials. The ministry has started a Rural Mason Training Program thus increasing the employability of the trained workers. An initiative such as the operation of Single Nodal Account has ensured the smooth flow of the funds.
Rajiv Awas Yojana
This scheme was launched in 2009 aimed to encourage a slum-free India by bringing all the illegal constructions within a formal system. All the notified and non-notified slums were to be targeted and brought under a formal system which would enable them to avail of the basic amenities such as electricity, water, and sanitation. Planning for affordable housing stock for the urban poor was undertaken and crucial policy changes were initiated for redressal of the failures of the formal system which led to the creation of the slums. This scheme also includes the part of extending the financial support to the states to create affordable housing stock through public-private partnership (PPP) under the component of Affordable Housing in Partnership (AHP). All the notified and non-notified slums in the city come under this scheme, whether on lands belonging to the Central Government or its Undertakings, Autonomous bodies created under the Act of Parliament, State Government, or its Undertakings, Urban Local Bodies or any other private sector and public agency. It also applies to "urbanized villages" inside the planning area of the city, urban homeless and pavement dwellers.
The Government has also notified the scheme of Affordable Housing in Partnership (AHP) as part of Rajiv AwasYojana (RAY) on 03.9.2013 to increase affordable housing stock. Each Economically Weaker Section (EWS)/Low Income Group (LIG) dwelling unit (DU) of the size of 21 to 40 sq. m. is provided with CentraL support at the rate of Rs. 75,000 in affordable housing projects taken up under various kinds of partnerships including private partnership. A project size must be of a minimum of 250 dwelling units to be eligible for funding under the scheme.
Other than the Centre housing schemes there are following State-run schemes for affordable housing in India:
DDA Housing Scheme
Delhi Development Authority Housing Scheme was launched in December 2018. DDA Housing Scheme offers apartments for high-income groups, middle-income groups, and low-income groups, while some reservations are made for the economically weaker sections of the society. Following are a few features of this scheme:
There was no offline procedure for the DDA housing scheme last year and this year also there will be more emphasis on the online process.
Units are offered on a first-come and first serve basis.
In 2020 the scheme will most probably offer 5000 flats, of which 1000 will be luxury units.
Tamil Nadu Housing Board Scheme
Tamil Nadu Housing Board Scheme was started in 1961 and has now developed into a full-fledged organization. It offers shelter to people under Higher Income Group, Middle Income Group, and Economically Weaker Section. This scheme includes subsidiary schemes such as the Ambattur Housing Scheme and Sevvapet Phase III Scheme.
To purchase shelter under this scheme, people must purchase the application form and then submit the form along with initial deposit money as specified.
MHADA Lottery Scheme
Maharashtra Housing and Area Development Authority is a lottery scheme that is launched every year for buyers from various income groups. The poorer sections are benefitted as a major portion of the units are reserved for them.
Tentative flat pricing is as follows as per the latest information:
EWS
Rs 15-20 lakh
LIG
Rs 20-35 lakh
MIG
Rs 35-80 lakh
HIG
Rs 80 lakh-5.8 crore
The scheme calls for online registration and then publishes the final list of accepted applicants. Thereafter the draw takes place on the pre-specified date and then refunds follow.
NTR Housing Scheme
Under NTR Housing Scheme from the Andhra Pradesh government, the Centre offers subsidies for homes linked with the PMAY scheme. In this scheme, the beneficiary has to contribute only one-third amount of the principal. The NTR housing scheme spans over urban as well as rural areas to give shelter to the underprivileged in the state. People with below poverty line (BPL) cards are eligible to apply under this scheme. The eligible applicants must not possess any other house or land under the Government housing scheme and must be a citizen of Andhra Pradesh.
Conclusion
While various attempts at providing affordable housing in India have been made in the form of the schemes discussed above, homes are still just a dream to many Indians. With a country, this vast and heterogenous, where a huge chunk of the population lives in absolute poverty, providing housing to everyone is a mammoth task to undertake but it can be said that the government has progressed in this matter and if these schemes are implemented following all their guidelines we are well on our way to eradicate homelessness.