Vaccination for under 18 India – Children (15-18) Years Vaccination Registration, Book Slot Online, Official Guidelines
Also, getting your Children(15-18 yrs) vaccinated is the best thing you can do to protect ...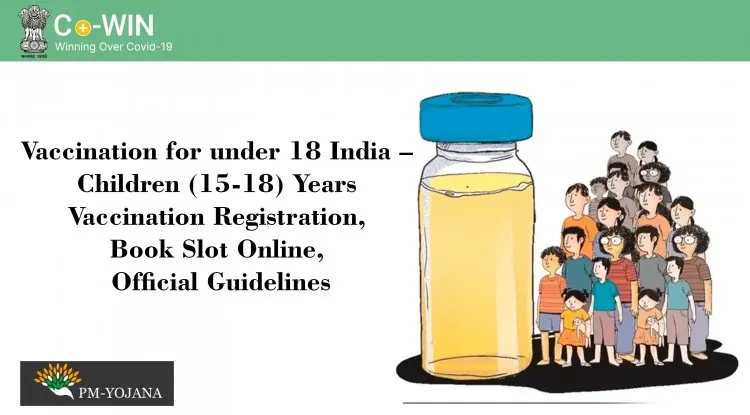 Vaccination for under 18 India – Children (15-18) Years Vaccination Registration, Book Slot Online, Official Guidelines
On 25th December eve, PM Narendra Modi addressed the nation. In his speech, he told the nation that all arrangements to vaccinate children below the age of 18 are in place. Initially, children of age group 15-18 years will be vaccinated. The Ministry of Health and Family Welfare released an Official notification (guidelines) for the vaccination drive in India. There are lots of questions regarding vaccination for below 18 years in India. In this article, we have covered information regarding vaccination slot booking and official guidelines.
The process to vaccinate children has commenced amid a rapid rise in coronavirus infections, particularly in the country's densely populated cities, fuelled by the Omicron variant of the coronavirus.
According to official data, over eight lakh teens had registered for the vaccine on government's CoWin portal ever since registrations began on Saturday.
Officials have said that as of 2 pm, over 16 lakh teenagers have received their first COVID-19 shots across the country.
Vaccination for Under 18 India
The Indian government took commendable steps to vaccinate people of various groups. Vaccination for 18+ is going on at a good pace. The vaccination process for those below 18 was an important step. Many speculations were being made about this. Parents were worried about their children's health in this pandemic time. Well, the good news is that the government is all set to vaccinate children below 18 years. In the first step, the 15-18 years age group will be vaccinated.
What's Covered
Here are some important takeaways from the recent vaccination-related guidelines (for under 18)
COVID-19 Vaccination of children in the age group of 15-18 years starts from 3 January 2022.
For 15-18 years beneficiaries, the vaccination option would be "Covaxin" only.
Below 18 years Children vaccination India – Eligibility criteria:
Currently 15-18 years age group will cover for vaccination
Anybody whose age is more than 15 years (birth year should be 2007 or before)
Eligible people need to self-register at the cowin portal.
For vaccine dose, registered applicants need to book slots through cowin platform
Indian Govt's Guidelines on COVID 19 Vaccine for "Under 18" Age Group
Anyone aged 15 years or older may register on Co-WIN. In alternate worlds, anyone born in 2007 or earlier is eligible.
Beneficiaries can self-register online using an existing Co-WIN account or by creating a new account using a unique cellphone number; this option is now available to all eligible people.
In facilitated registration mode, such beneficiaries may also be registered on-site by the verifier/vaccinator.
Appointments may be scheduled online or in-person (walk-in).
Such recipients would have the option of vaccination solely for Covaxin.
Under 18 Vaccination Registration – How to Register on Cowin Platform
As mentioned before, it's clearly specified in the guidelines, all the beneficiaries need to self-register on the cowin platform. Let's understand the registration process:
There are various ways to get registered on the cowin platform. One can register on the cowin portal, cowin mobile app or you may use the third-party apps too, to get registered.
Step 1: Log in to www.cowin.gov.in/home and click on the "Register/Login" option.
Step 2: Enter your mobile number and generate OTP. Listen.
Step 3: Register by entering your name, age, and gender.
Step 4: Choose a vaccination center of your choice, date, and time and "Confirm".
Step 5: Click on the "Book" button.
You will then receive an appointment voucher that you must present at the vaccination center.
In India, most Indians have received one of the two vaccines, the Health Ministry says. About 90 percent of the eligible population have received the first dose of the COVID-19 vaccine, and more than 63 percent of the eligible population are fully vaccinated.
Following the Omicron threat, the central government has now extended its vaccination campaign for children aged 15-18. So far, 1,270 cases of Omicron have been detected in 23 states/union territories in India. Maharashtra has reported the highest number of cases with 450. Delhi (320), Kerala (109), Gujarat (97), Rajasthan (69), and Telangana (62) follow.
Vaccination Registration For 15 to 18 Years is due to start on January 1, 2022. Prime Minister Narendra Modi announced that citizens aged 15-18 could receive the first dose of vaccines COVID-19 from January 3, 2022.
"The beneficiary will only be asked if he has comorbidity or not. He will only have to take him to the vaccination center. There is no need to charge anything before booking the slot on the Cowin platform," he said.
For the precautionary dose, the registration and appointment services are available online and on-site. "Details on the administration of the precautionary dose will be adequately reflected in vaccination certificates," the guidelines say.
While all citizens, regardless of income, will be entitled to free vaccination in the new phase, "those with the ability to pay are encouraged to use vaccination centers in private hospitals", according to the guidelines.
Children born in 2007 and earlier can get the vaccine, the ministry said. "Vaccination of children in the 15-18 age group will begin on January 3, 2022. For such beneficiaries, the vaccination option would be 'Covaxin only,'" according to the guidelines read.
Beneficiaries can register online using an existing Cowin account or by creating a new account using a unique mobile phone number. Children can reserve a seat using their parents' existing Cowin accounts.
Dr. RS Sharma, chief executive of the National Health Authority (NHA), which designed the infrastructure for Cowin, said the slot pool will be open to children from January 1. "Students can use the nine documents already listed (for adult vaccination). They can also use their student ID," Sharma says.