Unique Land Parcel Identification Number (ULPIN) Scheme
Unique Land Parcel Identification Number or ULPIN is a unique 14-digit authentication number that will be assigned for every plot.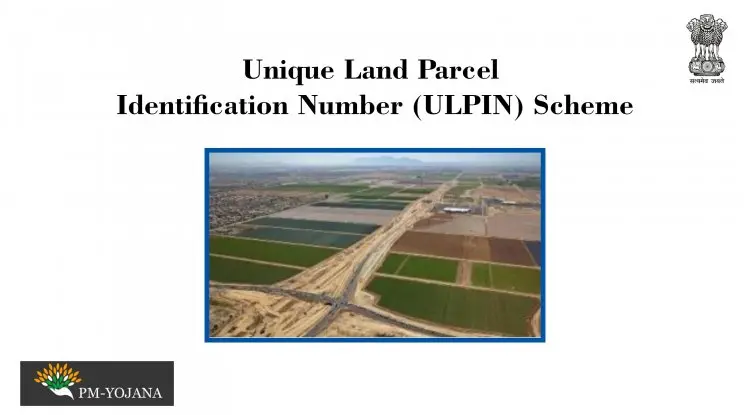 Unique Land Parcel Identification Number (ULPIN) Scheme
ULPIN
ULPIN scheme which is also well-known by the name of Aadhar of land has been launched throughout 10 Indian States and will be unveiled countrywide by March 2022, as per the Department of Land Resources.
There will be a 14 Digit ULPIN No. allocated for every plot or parcel of land in the whole country within one year. This land parcel no. will be a major reform since people will look for the ULPIN No. of land for all transactions including land acquisition for various purposes and projects. Subsequently, there will be an integration of the database of land records with revenue court records and other bank records in tandem with Aadhar numbers (on a voluntary basis). There will be much better delivery of services to citizens of India along with operating as inputs for the schemes in other sectors of the country including finance, disaster management and agriculture among others. This will vastly improve the system of land acquisition and land records management in India. This unique land parcel identification number scheme has brought a major improvement and progression in the entire land information management system and its basic framework in the country.
The 14-Digit Unique Land Parcel Identification Number has been classified by officials in the Government as Aadhar for land. This number will uniquely identify and locate every parcel of land that has been surveyed in India while helping in combating land-related frauds and disputes particularly in semi-urban and rural parts of the country where records are often outdated and disputed in court. This identification will be on the basis of the longitude and latitude coordinates of land parcels while depending upon extensive surveys and geo-referenced cadastral maps as per the presentation of the Department to the Indian States back in September last year. This is the next stage for the DILRMP or Digital India Land Records Modernization Programme that commenced from the year 2008 onwards and has been extended numerous times over the years.
What is ULPIN?
ULPIN (Unique Land Parcel Identification Number) is a fourteen-digit unique number that is given to a parcel of land.
ULPIN encompasses ownership information of the plot, beyond its area and size details.
ULPIN is a part of a programme that was initiated in 20008 by the name of Digital India Land Records Modernisation Programme.
The identification number is based on the latitude and longitude of the specific parcel of land and is relied on cadastral maps and surveys.
The ULPIN scheme came into effect in March 2021 in ten different states and the plan is to launch this scheme in each and every state by March 2022.
The ULPIN scheme was initiated to find out about land frauds, particularly in rural areas of India, where there are no concrete records of land and ownership of land.
ULPIN scheme helps in land accounting which further helps in developing banks for land purposes.
Benefits of ULPIN
One of the biggest benefits of ULPIN Uttar Pradesh or ULPIN PIB among other areas and regions (note ULPIN Jharkhand and others) is that the land database will be seamlessly integrated with revenue court records along with Aadhar and bank records. There will be this Aadhar for land or the 14-digit unique identification number, helping in tracking every plot in the country. It will prevent land fraud instances in hinterlands of rural India and other regions where land records are obsolete or disputed. Identification will take place on the basis of latitude and longitude coordinates of plots while depending upon geo-referenced cadastral maps and surveys.
As the ULPIN UPSC information states clearly, it will significantly advance the objectives of the DILRMP. It will cost only ₹3 per record for integrating and linking Aadhar with land records via ULPIN. Seeding and authenticating Aadhar information of landowners will cost ₹5 for each instance. A contemporary land record room will cost ₹50 lakh approximately for each district while integrating land records with Revenue Court Management System will cost roughly ₹270 crores. Service delivery will improve considerably as a result of ULPIN while it will boost inputs to other schemes in sectors like finance, disaster management and agriculture. All land records will become fully transparent and remain up to date for buyers/investors/sellers. It will be easier to share and access land records throughout financial institutions, departments and stakeholders. Citizens can get land record services in a single window itself and the scheme will also safeguard government land while making it easier to acquire land records. In a nutshell, with the infusion of ULPIN, the process of land acquisition has become quick and seamless.
Land Parcel Number Based on Geo-Coordinates
As seen for ULPIN Odisha or ULPIN Bihar among the other Indian States where this scheme is active, the latitude and longitude-based identification will take place on the basis of geo-coordinates. It will extend the scale and scope of the Digital India Land Records Modernization Programme that was launched in 2008.
This encompasses survey-re-survey along with computerization of registration and land records. The goals include real-time land ownership, detailed access for citizens, complete transparency, abolishing stamp papers and payment of stamp duty/registration fees via banks and online along with lowering RoR (record of rights) as per the timelines. There will be automatic mutations eventually along with lower litigation with more conclusive titles.
Electronic Commerce Code Management Association (ECCMA)
The ULPIN scheme will go a long way towards developing the entire land bank while leading towards the ILIMS (Integrated Land Information Management System). The scheme will have 14-digit alpha numeric IDs for every plot as mentioned. The unique IDs will be based upon geo-referenced coordinates of vertices for the land parcel and of global standards while being compliant with the ECCMA (Electronic Commerce Code Management Association) standards along with the OGC (Open Geospatial Consortium) standards while offering compatibility for swift adoption by all Indian States.
ULPIN Scheme has been Officially Launched in 10 States
As mentioned earlier, the Central Government has already facilitated the roll-out of the ULPIN scheme throughout 10 States in the country. It will be launched throughout all of India by March 2022 as per the statement issued by the Department of Land Resources which informed the same to the Standing Committee on Rural Development. Every plot in India will have its own unique 14-digit number within one year.
NIC has developed the Unique Land Parcel Identification Number or ULPIN which has been launched officially in Bihar Department of Land Reforms, Government of India and the Additional Chief Secretary Revenue & Land Records and Government of Bihar. ULPIN has also been launched in Odisha on a pilot basis. Odisha was chosen for the pilot project since it is known as a pioneer for best practices relating to land records. ULPIN has been unveiled in Barkhandia Village, Barakhol Village of Riamal Tehsil and Kandeijori Village of Deogarh Tehsil. All three villages lie in the Deogarh District, and they have been successfully geo-referenced.
Final Thoughts
ULPIN will offer immense benefits with a single source of information helping in the authentication of ownership seamlessly while also ending all issues relating to any dubious land ownership as well. It will help in the identification of Government land more easily while also safeguarding land from any hoax or fraudulent transactions. The ULPIN scheme has successfully achieved the aim of protecting government land from illegal usurp. At the same time, it has made land acquisition easier.
Odisha has already taken several pioneering steps with regard to cadastral maps, digitizing land records and integrating spatial and textual records among other initiatives in this regard.
Frequently Asked Questions (FAQs) About ULPIN
What is a Unique Land Parcel Identification Number?
Unique Land Parcel Identification Number or ULPIN is a unique 14-digit authentication number that will be assigned for every plot. It will be based upon latitude and longitudinal geo-coordinates.
When will ULPIN roll out in India?
ULPIN will completely roll out in India by March 2022. It is already present in 10 Indian States.
Why is it called Aadhar for land?
Since it is the unique identification number (14- digit alpha-numeric ID) for every plot that is why it is called the Aadhar for land.