Swachh Bharat Abhiyan
Swachh Bharat Abhiyan, or Clean India Mission is a country-wide campaign initiated by the Government of India .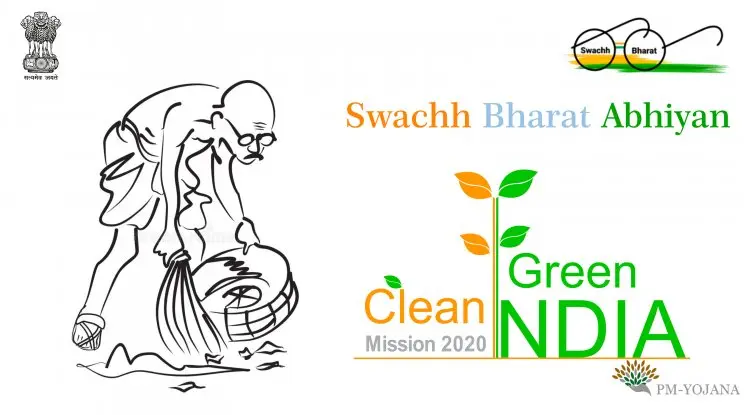 Swachh Bharat Abhiyan
Swachh Bharat Abhiyan Launch Date: Oct 2, 2014
Mission To Make India Clean
India has registered a sustained economic growth in the last few years. But it still faces a huge economic loss due to poor hygiene and sanitation. A recent World Bank report has highlighted that India loses 6.4% of GDP annually because of this particular reason. Under the Swachh Bharat Mission (SBM) launched by Prime Minister Narendra Modi, the Government of India aims at 'total sanitation' by 2019. It means every household in India will have a toilet by the end of the year 2019, the 150th birth anniversary of Mahatma Gandhi.
Objectives of the Swachh Bharat Mission
Objectives of the Swachh Bharat Mission are – elimination of open defecation, conversion of insanitary toilets to pour flush toilets, eradication of manual scavenging, 10% collection and scientific processing/disposal, reuse/recycle of municipal solid waste, to bring about a behavioural change in people regarding healthy sanitation practices. The programme aims to generate awareness among the citizens about sanitation and its association with health. It also calls for strengthening of urban local bodies to design, implement and operate systems to create conducive environment for private sector participation.
Menace of the Open Defecation
One of the major causes of lack of cleanliness in the country is open defecation. It refers to a practice whereby people go out in fields or other open spaces rather than using the toilets to defecate. This practice is quite rampant in India. A UN report also said that India was home to the world's largest population of people who defecate in the open and around 65,000 tonnes of excreta was added into the environment each day.
The Open Defecation Free (ODF)
To become Open Defecation Free (ODF) is an uphill task for a country like ours. The age-old practices and a lack of awareness among people are posing severe challenges to health. However after the launch of Swachh Bharat Campaign, 25 states have been declared as Open Defecation Free till November 2018. Sikkim was the first Indian state which was declared ODF state under the Swachh Bharat Mission.
In October 2016, Himachal Pradesh was declared Open Defecation Free (ODF) state under the SBM. After Sikkim, Himachal Pradesh got this status to have toilet for every individual household. As on November 2018, there were 89 million toilets built since 02nd October 2014 and more than 5 lakhs villages were declared Open Defecation Free. There is still a long way to go for the completion of this campaign and most important thing will be the behavioural change which is very important for the successful completion of this mission.
Funding of the Swachh Bharat Mission
This mission is one of the leading centrally-sponsored schemes for which cooperation of all the states is quite important. The SBM receives funds through budgetary allocations, contributions to the Swachh Bharat Kosh and Corporate Social Responsibility (CSR). It also receives funding assistance from the international organisation like the World Bank. The Government of India introduced Swachh Bharat Cess (SBC) in 2015 which is used for financing and promoting the Swachh Bharat initiatives.
It is applicable on all taxable services. It is levied, charged, collected and paid to the Government of India, independent of service tax. It is charged as a separate line item in the invoice. SBC has been introduced for financing and promoting Swachh Bharat initiatives and became effective since 15 November 2015 at the rate of 0.5% on all taxable services. SBC is collected in the Consolidated Fund of India.
The Union Government had announced Swachh Bharat Kosh (SBK) in 2014. Its Governing Council is chaired by Secretary, the Department of Expenditure, and Ministry of Finance. Secretaries from several ministries are part of it. Its instruction is to procure Corporate Social Responsibility (CSR) funds from the corporate sector and philanthropists. It accepts contributions from individuals also. The Kosh is used to achieve the objective of improving cleanliness levels in rural and urban areas.
Swachh Bharat Mission (Urban) 2.0
The government in the Union Budget 2021 allocated Rs 1,41,678 crores for the Swachh Bharat Mission (U) 2.0. The components of SBM-Urban 2.0 are:
New component – Wastewater treatment, including faecal sludge management in all ULBs with less than 1 lakh population
Sustainable sanitation (construction of toilets)
Solid Waste Management
Information, Education and Communication, and
Capacity building
Achievements expected out of SBM-Urban 2.0:
ODF+ certification to all statutory towns.
ODF++ certification to all statutory towns with less than 1 lakh population.
Water+ certification to half of all the statutory towns with less than 1 lakh population.
Rating of at least 3-star Garbage Free to all statutory towns as per Ministry of Housing and Urban Affairs (MoHUA's) Star Rating Protocol for Garbage Free cities.
Bio-remediation of all legacy dumpsites.

Swachh Bharat Mission (Urban) 1.0

Coming to Swachh Bharat Mission (Urban), it is under the Ministry of Urban Development and is commissioned to give sanitation and household toilet facilities in all 4041 statutory towns with a combined population of 377 million.
The estimated cost is Rs 62,009 crore over five years with the centre's share of assistance being Rs 14,623 crore.
The Mission hopes to cover 1.04 crore households, give 2.5 lakh community toilet seats, 2.6 lakh public toilet seats
It also proposes to establish solid waste management facilities in every town.

At the core of this mission lie six components:

Individual household toilets;
Community toilets;
Public toilets;
Municipal Solid Waste Management;
Information and Education Communication (IEC) and Public Awareness;
Capacity Building

The Urban Clean India mission seeks to eradicate open defecation; convert insanitary toilets to flush toilets; eradicate manual scavenging, and facilitate solid waste management.
The mission emphasizes on ushering in a behavioral change among people, for healthy sanitation practices, by educating them about the damaging effects of open defecation, the environmental dangers spreading from strewn garbage, and so on.
To achieve these objectives, urban local bodies are being brought in and fortified to design, implement and operate systems to promote a facilitating environment for the participation of the private sector in terms of both capital and operations expenditure.

Swachh Bharat Mission (Rural)

The Rural mission, known as Swachh Bharat Gramin, aims to make Village Panchayats open defecation free by October 2, 2019.
Removing obstacles and addressing critical issues that affect results is the new thrust of this rural sanitation mission, which aims to provide all rural households with individual latrines; and build cluster and community toilets on public-private partnership mode.
Considering the filth and unhygienic conditions in village schools, this programme lays special emphasis on toilets in schools with basic sanitation amenities.
Construction of Anganwadi toilets and management of solid and liquid waste in all Village Panchayats is the object of the Clean India mission.

Conclusion

Though people have started to pitch in to help spread the message of 'Cleanliness is next to Godliness', we still have miles to go. The government needs to work on the entire sanitation value chain including water supply, safe disposal and treatment of waste, and maintenance of infrastructure. The construction of toilets as well as awareness campaigns needs the backing of the state for regular monitoring of the toilet use. Not only this, there is a need to engage the community also to address the age-old practices in the rural areas.

The Swachh Bharat Abhiyan has started showing its results in the current times where 25 states have been already declared Open Defecation Free and efforts are already in progress to make other state join the club of ODF. At this juncture, every countryman should take a pledge that he/she will contribute towards making India clean in the true sense of the term and then only we can pay tribute in real sense to Mahatma Gandhi on his 150th birth anniversary in 2019