Smart Cities Mission
The purpose of the Smart Cities Mission is to drive economic growth and improve the quality of life of people by enabling local area development.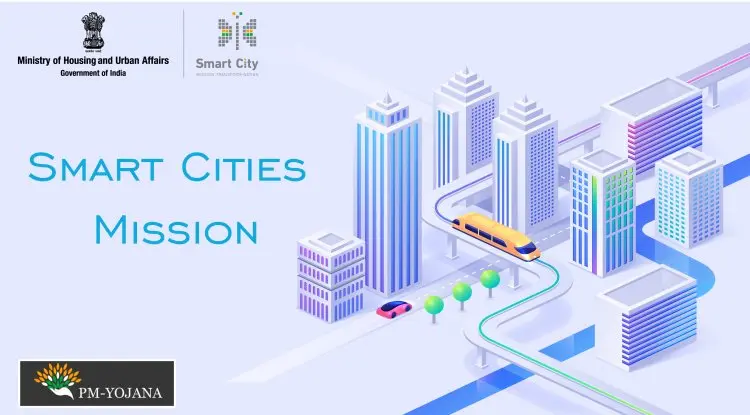 Smart Cities Mission
Smart Cities Mission Launch Date: Jun 25, 2015
Relevance of Smart Cities in India
The Budget of 2014-2015 saw PM Narendra Modi announce the Government's 100 Smart city plan. This was the first time when the government spoke of a plan that would offer the benefits of a planned city to the urban Indian populace using SMART Technologies -a bold plan indeed! The Government initially allocated $7.5 billion to fulfill the ambitious Smart Cities Mission.
The idea was to improve the quality of life in 109 fastest growing urban cities in India. Since development in India is happening at breakneck speed, where the population of 340 million in 2008 is expected to grow to reach 590 million by 2030. The Ministry of Urban Development partnered with Bloomberg Philanthropies in 2015 to provide strategic and technical support in the design and delivery of the Smart Cities Challenge. This would be a part of the selection of cities to receive funds from the Government.
"The Smart Cities Challenge saw 20 winners being
picked in the first round in 2016."
Well, don't you want to have better means of communication between people and lower your living costs, have a better lifestyle than what it is now and get a chance to voice your opinion in how a city is run? If you say yes to all of the above, then that is what Smart Cities will do for the country.
Every country has its version of a Smart City, which is dependent on how developed the city is, how inclined the residents are to improve further and the resources they currently have. The idea is to reward cities that provide what residents need by using 'Smart Tech Solutions.
"The emphasis is on encouraging justifiable and comprehensive expansion, with an aim to look at dense areas, and create a model smart city that can be replicated in other aspiring cities."
Why Was the Smart Cities Mission in India initiated
Developed countries had formalized tech plans so that they could control and command network to improve people's access to electricity, water, conveyance and healthcare facilities. An efficient infrastructure system and its effective distribution is the basic principle of a Smart City.
Navigant Research says,
"The smart city tech knowhow market is anticipated to grow to $27.5 billion and more by the year 2023 from $8.8 billion in 2014.
To reiterate the fact of growing technology market, the Navigant Research director Eric Woods said, "Metropolises are looking for partners and contractors to work together on ambitious plans for sustainability, modernization in public services, and commercial growth that hinges on substantial technology investments. The chief companies in this market have an established global presence. They not only have the expertise to offer direction on extensive developments across several cities and their needs, but they can also distribute solutions for smart infrastructure, IT, and telecommunications to towns, offering support for varied infrastructure set-ups and operational issues." (Source: http://www.iamwire.com/2015/02/smart-cities-india-what/110303)
IBM and Cisco are the topmost contractors in the world smart city market and rank the highest for their strategies and implementation.
With India drawing inspiration from smart cities across the world and the Prime Minister's vision of a Digital India gave rise to the 100-smart city plan for India. In his budget speech, he said, "Cities were built on riverbanks earlier, now are being built along the highways, but they will be developed depending on how accessible optical fiber network and smart infrastructure is in the future." His plan was lauded by other developed countries and India has received support and funds from Japan, Singapore, the UK as well.
Does India need Smart Cities? Can the current cities house the rising populace? Will lifestyle improve? Will access to education and healthcare services for every Indian become a reality? Are smart cities relevant to India?
The need for smart cities in India...
Conserve resources: India is projected to make 11 crore houses by the end of 2022 with an outlay of $2300 billion. With the current cities, it would mean the use of resources that the country is short on. However, all structures in smart cities would be built to preserve ecological resources such as power and water by using renewable resources such as solar energy. This would help to conserve 30% of the water and nearly 40% energy, bringing down maintenance costs by 10-30%.
Provide efficiency of energy: The GOI in its 12th five-year plan hopes to generate 88 thousand MW of additional power with an investment of $26 million to offer an uninterrupted supply of power for 8 hours to every household in the country by 2017. Installation of smart meters would reduce power bills tremendously while creating a transparent billing system.
Eco-friendly: Every citizen in India has a right to good hygiene and cleanliness. India accounts for 50% of open defecation globally, providing sanitation to every home with waste water and solid waste management will help to bring down unhygienic conditions in the country and create an eco-friendly environment.
Better conveyance: Every smart city built in India will have to provide easy transport access to people living within 800 meters of built-up area, where workplaces would not be more than 30 minutes away in small towns and 45 minutes in metros. These cities aim to offer electric and hybrid vehicles with charging stations, high-speed rails, metro trains and monorail in the next decade.
Accessible Healthcare– The government aims to offer better healthcare facilities, and technically advanced equipment within easy reach of every resident by building specialty hospitals, diagnostic centers, and dispensaries for every 50000 and 15000 residents respectively.
Better Education: Every smart city in India will need to provide one school per lakh, one college for every 1.25 lakh, a medical, technical and engineering college for every 10-lakh citizen in the smart city. Not only this, the city would have provisions for differently abled students.
Improved Communications and IT: Introduction of smart cities will make use of technologies that will substitute manpower to an extent in cities like Mumbai, Delhi, Kolkata, Chennai, and others. You can look forward to enhanced broadband connectivity, which will connect these cities effortlessly.
Provision for other needs: Every smart city will have appropriate access to workplaces, sufficient public transport, bicycle and walking tracks to at least 95% of its populace. Shops, parks, and schools will be within 400 meters of residence, where at least 20 % of the homes in Transit Development zones will be occupied by the poor.
What's happening currently in the smart city plan
Several new planned cities are being constructed right now, particularly in the Delhi-Mumbai corridor. Many of these cities have plans for special economic zones and investment regions that offer relaxed regulations with regards to taxes and foreign direct investment. Off the $100 billion planned investment, Japan accounts for nearly 26% of the outlay.
A total of 60 smart city proposals that have been selected by the Urban Ministry of India, which will impact an urban populace of 72,266,232 with a total project outlay of 131762 crores. (Source: https://smartnet.niua.org/smart-cities-network)
The GOI and WB together have allocated $500 million for rural water and sanitation particularly in Assam, Bihar, Jharkhand and Uttar Pradesh.
GOI aims to develop eco-friendly transport options by aiming to manufacture and implement 6 million electric and hybrid vehicles on the road by 2020 with charging stations at all highways by 2027.
The government has allocated a budget of $81.38 million to build five new IITs & IIMs, and the current budget has witnessed a spur in allocation towards educational sector by 12.3%.
The government has set aside a budget of $ 333 million to improve broadband connectivity to connect smart cities seamlessly. To effectively manage disasters in these cities a budget of $236 million has been allocated to reduce risks of disaster.
Setting aside positive sentiments and the hoopla surrounding this plan, questions like 'Will this plan become exclusive and leave out the common man' will arise. However, given the socio-economic circumstances and the urban-rural population divide, application of the 100-smart city plan could be difficult. As a rapidly growing economy, India needs to stay abreast of world standards of development. So, any smart city project would have to be designed keeping in mind the needs and the ambitions of the residents.