Sarva Shiksha Abhiyan (SSA)
Sarva Shiksha Abhiyan (SSA) is a comprehensive and integrated flagship programme of Government of India to attain Universal Elementary Education ( UEE) .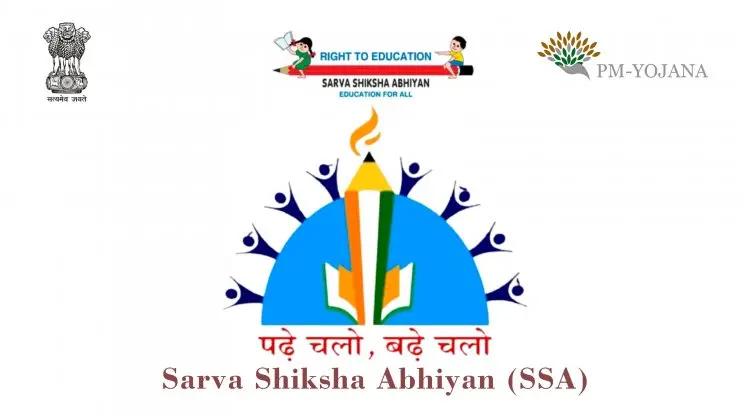 Sarva Shiksha Abhiyan (SSA)
Sarva Shiksha Abhiyan (SSA)
Sarva Shiksha Abhiyan (SSA) is a comprehensive and integrated flagship programme of Government of India to attain Universal Elementary Education ( UEE) .
Sarva Shiksha Abhiyan (SSA) Scheme
India is a country where society subjects financially distressed people to be victims of discrimination in various fields. Education is one such factor that economically backward children cannot fetch.
Therefore, the government of India launched Sarva Shiksha Abhiyan (SSA) to ensure that the underprivileged kids are no more left behind.
Important Facts about Sarva Shiksha Abhiyan for UPSC
| | |
| --- | --- |
| SSA Full Form | Sarva Shiksha Abhiyan |
| Sarva Shiksha Abhiyan Year of Launch | 2001 |
| Government Ministry | Ministry of Human Resources and Development (MHRD) |
| Official Website | https://mhrd.gov.in/ssa |
What Is Sarva Shiksha Abhiyan (SSA)?
Sarva Shiksha Abhiyan is a program that provides flagship schools to attain the Universalisation of Elementary Education (UEE) within a time frame that the Indian constitution mandates. The Ministry of Human Resource Development implements the program through state governments.
The constitution amended Article 21a as a basic right giving the right to education (RTE) through the 86th amendment act in 2009. It enforces compulsory and free education of minors or children aged between 6 and 14 years. Though the program was in function from 2000 to 2001, it continued with some modifications after RTE.
Features of the Sarva Shiksha Abhiyan Scheme
The features of Sarva Shiksha Abhiyan are -
This program was fabricated to implement Universal Elementary Education within a time frame.
It provides basic education to all minors throughout the nation for free.
This program helps India achieve a benchmark of equality and social justice by making basic education available to children.
It includes the school management committees, village education committee, Panchayat Raj institution, parent-teacher association, and Tribal Autonomous Councils to effectively manage the primary schools.
The central government partners with state governments and local governments to implement this program.

What Are the Objectives of Sarva Shiksha Abhiyan Scheme?

Sarva Shiksha Abhiyan has some primary objectives that help improve educational curriculum and management at the root level and strengthen the future of all students.

Following are its objectives -

Reinforce the existing schools' infrastructure by setting up toilets, classrooms and making drinking water available.
Offer alternate schooling facilities to students.
Build new educational institutions for such inhabitants which lack schooling facilities.
Provide the school with grants for maintenance and improvement.
Increase the number of teachers in a school and improve faculty strength.
Provide uniforms, textbooks and quality primary education.
Ensure education for physically disabled and socially backward children.
Promote digital education and enhance teaching skills by providing vocational courses.
What Is the Aim of the Sarva Shiksha Abhiyan?
Sarva Shiksha Abhiyan initiated a sub-program known as "Padhe Bharat Badhe Bharat", focusing on the children of classes 1 and 2. This program offers comprehensive practice of early reading, writing, and mathematics.
This program helps students who failed to avail of education at an early age to achieve excellence in literature and mathematics. It emphasises language development via exciting exercises. Additionally, it generates interest in mathematics through real-life examples.
Who Is Eligible for Sarva Shiksha Abhiyan Scheme?
Students aged 6 to 14 years are eligible to apply for the Sarva Shiksha Abhiyan Scheme.
Benefits of Sarva Shiksha Abhiyan Scheme
Here are some benefits that students can enjoy under this scheme -
Free and compulsory elementary education ensures quality basic education to a broad spectrum of society.
Timely supply of textbooks and school uniforms.
Computer education to bridge the digital gap.
Equal education and facilities to children from SC or ST, Muslim minority, and landless agricultural labourers.
In addition, teachers can also fetch some benefits under Sarva Shiksha Abhiyan, such as -
Mentoring and vocational courses for improving teaching skills.
Appraisal system to support the teachers.
Lastly, there are some beneficial factors for the educational institutions, including -
Improved infrastructure with additional classrooms, upscaled and hygienic toilets and drinking water supply.
Grants for maintenance cost of the school.
The Sarva Shiksha Abhiyan program uplifts the educational status of students from all classes and improves the infrastructure of rural and distressed schools in India. This program has been helping students avail quality education without cost. Therefore, our government had successfully achieved the goal of a drastic increase in students enrolment in elementary.
A few important facts about SSA are mentioned in the list below:
SSA is termed as an 'Education for All' movement
The pioneer of the SSA programme was Atal Bihari Vajpayee, the Indian Former Prime Minister.
The Central Government in partnership with State Governments is implementing this initiative.
The initial aim of SSA was to meet its objectives by 2010, however, the timeline has been extended.
SSA aims to provide educational infrastructure to around 193 million children in 1.1 million habitations.
86th Amendment Act to the Indian Constitution provided legal backing to SSA when it made education free and compulsory for children in the age group of 6-14.
New Education Policy 2020 aims to bring about two crores out of school children into the mainstream.
In the National Education Policy of 2019, it was mentioned that an estimated 6.2 crore children of school age (between 6 and 18 years) were out of school in 2015.
Padhe Bharat Badhe Bharat is a sub-programme of SSA.
There is a government portal under the name 'Shagun' that has been launched to monitor the SSA programme. The World Bank in association with the Ministry of HRD developed it.

SSA and District Primary Education Programme (DPEP)

The District Primary Education Programme was launched in 1994 as a centrally-sponsored scheme to revitalize the primary education system. It was the first programme that aimed to universalize elementary education. DPEP had an area-specific approach with a district as a unit of planning.

Some important points about DPEP are:

85 percent of the project cost was aided by the Central Government and 15 percent by the concerned State Government.
This program covered 18 states
International Organisations like the World Bank, UNICEF, etc, assisted the Central Government externally.