Remission of Duties and Taxes on Exported Products (RoDTEP) Scheme
This scheme is applicable to the export of products but not services.This scheme has replaced Merchandise export incentive schemes (MIES).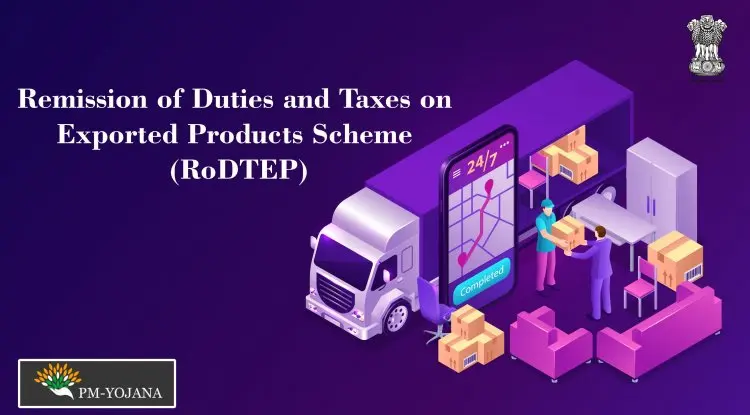 Remission of Duties and Taxes on Exported Products (RoDTEP) Scheme
RoDTEP Scheme Launch Date: Jan 1, 2021
Procedure to avail the benefits under RoDTEP Scheme
There are the four mandatory steps to avail the benefits under RoDTEP Scheme as follows -
Declaration in the Shipping Bills -
It is mandatory for the exporters to indicate in their Shipping Bill whether or not they intend to claim RoDTEP on the export items from 01/01/2021. Unlike Drawback, there will be no need to declare any separate code or schedule serial number for RoDTEP.
The exporter will have to make following declarations is the SW_INFO_TYPE Table of the Shipping Bill for each item:
ICEGate registration
The exporter has to register on ICEGate to get the login Id and Password with the help of an Email id,
Mobile number, and with an Import-Export Code.
Creation of the RoDTEP Credit Ledger
To avail of the benefits under RoDTEP exporter has to create first the RoDTEP credit ledger account by logging onto the ICEGate portal i.e. on using Class 3 DSC. There would be the following information would be available in the ledger account -
Scroll Details
Scrip Details
Transaction Details
Transfer Scrips
Approved Scrips Transfer
Application procedure and scroll generation
An application shall be filed online using Class 3 Individual type Digital signature Certificate on ICEGate Website (https://www.icegate.gov.in/).
The refund under RoDTEP Scheme would be in the form of duty credit which will be transferable, or it may be in the form of electronic scrip which will be maintained in the electronic ledger.
The RoDTEP scrolls would be generated on FIFO (First in first out) basis w.e.f. 01/01/2021.
To avoid the overloading of the system due to the processing of backlog since 01.01.2021, the scroll generation would be enabled in a staggered manner in periods beginning from 01.01.2021
Allowing one week time for each customs location for generating scrolls for one month as per the schedule.