Production Linked Incentive (PLI) Scheme
The scheme offers financial incentives to boost domestic manufacturing of Advanced Automotive Technology products and attract investments.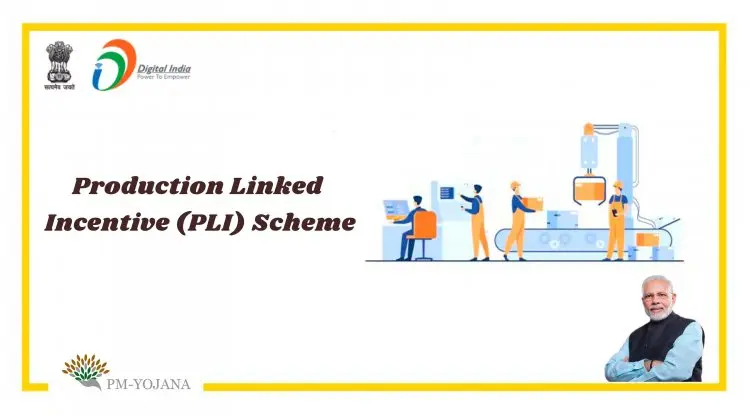 Production Linked Incentive (PLI) Scheme
Production linked incentive Launch Date: Aug 25, 2021
Production Linked Incentive (PLI)
Schemes in India
In the PLI scheme, incentives are offered to manufacturers of Indian products when incremental sales are made. Six new schemes were approved after ten were notified by the government in November last year and the first three were approved in March.
According to Nirmala Sitharaman (Hon'ble Finance Minister), in her speech on the budget of 2021-22, the government would invest Rs 1.97 lakh crore in the Production-Linked Incentive (PLI) scheme for 13 sector-specific programs, which will create jobs for the young and stimulate national manufacturing. It was introduced in March last year as part of Atmanirbhar Bharat's domestic manufacturing expansion strategy.
The Commerce Ministry expects that the initiative will generate over $500 billion worth of goods over the next five years. PLI schemes for nine sectors have been approved by the Cabinet since early April.
Aside from working to reduce import duties and improve the competitiveness of local products, the scheme provides incentives to companies to increase their domestic manufacturing. PLI schemes offer incentives on incremental sales for domestically manufactured products. Six new schemes were approved after ten were notified by the government in November last year and the first three were approved in March. Implementation of the sector-specific schemes will be the responsibility of the involved ministries and departments.
The Cabinet announced in November last year that PLI savings from one approved sector can be transferred to another approved sector. In addition to its announcement of three new PLI schemes in March 2020, the Government of India announced ten more in November 2020:
November 2020:
Prescription medications: Department of Pharmaceuticals
Technology or Electronic Products: Ministry of Information & Electronics Technology
Networking and Telecom Products: Department of Telecommunications
Food Products: Ministry of Food Processing Industries
ACS and LED (White Goods): Department for Promotion of Industry and Internal Trade
Energy-Efficient Solar PV Modules: Ministry of New and Renewable Energy
Auto Components and Automobiles: Department of Heavy Industry
ACC (Advance Chemistry Cell) Battery: Department of Heavy Industry
Specialty Steel: Ministry of Steel
MMF segment and technical textiles: Textile Products: Ministry of Textiles
March 2020
Drug Intermediates (DIs)/Key Starting Materials (KSM) & Active Pharmaceutical Ingredients (APIs): Department of Pharmaceuticals
Electronics Manufacturing on a Large Scale: Ministry of Electronics and Information Technology
Medicinal devises manufacturing: Department of Pharmaceuticals
Background
There are food processing enterprises in all segments of the industry in India, from micro-companies to large corporations.
The country has a competitive advantage due to its natural resource endowment, large domestic market, and potential for promoting value-added products.
For Indian companies to realize the full potential of this sector, they must significantly improve their competitiveness vis-à-vis their global counterpart in terms of export scale, productivity, and value addition, and maintain their linkages with global value chains.
Based on "AtmaNirbhar Bharat Abhiyaan for Enhancing India's Manufacturing Capabilities and Enhancing Exports" the Production Linked Incentive Scheme for Food Processing Industries has been formulated.
The scheme's objectives
Providing support to food manufacturing companies with a requisite minimum sales level and a willingness to invest in expanding their processing capacities and developing their brands abroad to encourage the emergence of strong Indian brands.
Build champions of food manufacturers across the globe.
Strengthen Indian brands of food products so they are seen globally and accepted more readily abroad.
Increasing the number of jobs available off-farm.
Retaining farmers' income by ensuring remunerative prices of agricultural products.
Summary of salient features
There are Rs. 10900 crores allocated for this scheme in the Central Sector
Incentives are included to motivate the production of four major categories of food products, viz. There is a wide range of Ready To Cook/ Ready To Eat foods (RTC/ RTE) available, such as millets-based products, processed fruits and vegetables, marine products, and mozzarella cheese.
Innovative/Organic products of small businesses are also covered under the above component. These include free-range – eggs, poultry meat, and egg products.
In the first two years, from 2021-2022 and 2022-2023, the selected applicant is required to invest in Plant & Machinery as quoted in their application (subject to the prescribed minimum).
To meet the mandated investment, we will also need to invest in 2020-21.
It will not be necessary for entities selected in the process of making innovative products/ organic products to meet Minimum Sales requirements and mandatory investment requirements.
In the second component, support is provided for branding and marketing abroad to enhance the development of strong Indian brands overseas.
A grant scheme is being developed to help promote the Indian brand abroad by providing grants to applicant entities for signage, shelf space, and marketing.
It will be implemented over six years, beginning in 2021-22 and ending in 2026-27.
Targets and strategy for implementation
There will be an all-India rollout of the scheme.
Implementation of the plan shall be carried out by a Project Management Agency (PMA).
The PMA is responsible for evaluating applications and proposals, verifying eligibility for support, scrutinizing claims that are eligible for incentive payments, and so on
An incentive will be paid under this scheme over six years, ending in 2026-27. An incentive due for payment for a particular year will be due in the subsequent year. During the contract period of 2021-22 to 2026-27, the scheme will last for six years.
The fund limit of the scheme, i.e. the cost shall not exceed the approved amount, is imposed. An incentive award maximum shall be determined in advance for each beneficiary at the time of their approval. There shall be no exceeding of this maximum regardless of achievement/performance.
This program is expected to promote the expansion of processing capacity by 2026-27, which will enable processed foods worth Rs. 33,494 crore as well as providing jobs for almost 2.5 lakh people.
Methodology and Mechanisms of Administration and Implementation
Cabinet Secretary would be the Chair of the Empowered Group of Secretaries at the Centre, which would monitor the Scheme
An Inter-Ministerial Approval Committee (IMAC) would determine and approve which applicants were eligible for this scheme, and sanction and release incentives of funds would be decided.
To move forward with the scheme, the Ministry will develop an Annual Action Plan that covers various activities.
It would have a third-party evaluation process and midterm evaluation mechanism embedded in it.
A major impact on employment generation
By executing the scheme, the processing capacities of the industry will be increased to produce processed foods worth Rs. 33,494 crores, and;
Providing jobs for approximately 2.5 lakh individuals by 2026-2027.
A federal cabinet led by Prime Minister Shri Narendra Modi has approved the introduction of the Production-Linked Incentive (PLI) Scheme in the automobile and auto component industries to enhance manufacturing capabilities in the country and to increase exports – Atmanirbhar Bharat.
Who is eligible for this scheme?
There are different eligibility requirements for businesses under the PLI scheme, depending on the industry approved under the program. Taking telecom units as an example, eligibility is dependent on achieving the point of absolute and relative investment growth as well as manufacturing sales.
Investments in MSME companies are limited to Rs 10 crores and investments in other companies to Rs 100 crores. SME's and other companies must hold 50% or more of their subsidiaries, if any, under food processing regulations. According to the Ministry of Food Processing Industries, SMEs are selected based on "their proposal, the novelties of their products and the level of their product development" among other factors.
In contrast, for businesses relating to pharmaceutical operations, the project must be a greenfield one, and the company's net worth must not be less than 30 percent of its total investments. In addition, the company should provide a Domestic Value Addition (DVA) of at least 90% for fermentation-based products and at least 70% for chemical syntheses.
Production Linked Incentive (PLI) Schemes News:
PLI Scheme boosting manufacturing and export sector in India
On Wednesday, December 29th, 2021, Finance Minister of India Nirmala Sitharaman, while speaking at the M V Kamath Centenary Memorial Lecture, dubbed the PLI scheme as a boon for MSMEs.
The PLI is an innovative scheme and can help improve the cost competitiveness of local goods. By allowing investment in India, the scheme boosts export and manufacturing.
According to Ajay Sahai, CEO & Director of the Federation for Indian Export Organisations, PLI will help raise the country's exports. With the addition of artificial fibers and technical textiles, the rise in amount is about the US $110 to US $120 billion.
Isha Choudhary, CRISIL Research Director, said that meaningful CAPEX will likely be pushed over fiscals from 2023-2025 as fine print across more sectors gets finalized.
The government's estimation shows an outcome of up to $504 billion and around 1 crore jobs will be added in 5 years. However, the Care ratings show a substantial part of more than 50-60% might be indirect. Moreover, MSMEs are expected to lead where the investment and overall turnover targets are not very high for some sectors.
Perks of PLI schemes launched in the years 2020 and 2021 would be seen in the policy reform 2022.
The Government launched PLI Scheme, drop-in ACC battery prices
To promote electric vehicles in the country, the government has launched the FAME India Scheme. The focus is on manufacturing Advanced Chemistry Cell (ACC) in the country to bring down its cost.
The scheme envisions the establishment of a competitive ACC battery manufacturing setup in the country. The scheme is implemented for five years with total budgetary support of Rs. 10,000 crores.
The government also took some major steps to adopt electric vehicles in the country.
On 12th May 2021, the Government launched the PLI Scheme to bring down ACC battery prices.
Approved on 15th September 2021 with the total support of Rs. 25,938 crore, Electric Vehicles are covered under (PLI) scheme for Automobile and Auto Components.
Reduction of GST on electric vehicles from 12% to 5%. Also, on chargers/ charging stations for electric vehicles, GST has been reduced from 18% to 5%.
For the initial cost reduction of EVs, a notification is issued by SMoRTH to waive road tax on EVs.
This will have a huge impact on cost reduction electric vehicles. Moreover, the government is also supporting the creation of charging infrastructure.
Cabinet approves PLI Scheme worth Rs 76,000 Crore for Semiconductor Manufacturing
The Union Cabinet, chaired by PM Narendra Modi, approved the Rs 76,000 Crore PLI Scheme. The scheme would be a boost for semiconductor and display manufacturing in the country.
Due to the global semiconductor shortage, Indian automakers and tech companies are facing problems.
Information and broadcasting minister, Anurag Thakur informed that the scheme focuses on producing semiconductors over the next 5-6 years.
In developing India as a hub for hi-tech production,
Under PLI for large-scale electronic manufacturing, PLI for IT hardware, SPECS scheme, the approved incentive support is about Rs 55,392 Crore.
Moreover, support of around Rs 98,000 Crore is approved for sectors involving auto components, telecom and networking products, Solar PV modules, and white goods.
Overall, with semiconductors as the foundation, the government guaranteed the support of Rs 2,30,000 Crore.
Ashwini Vaishnaw, Telecom and IT minister, said the scheme would support companies in silicon semiconductor fabs, designing, and packaging, among others.
To fight these global semiconductors hostage, Tata Group is ready to invest up to $300 million for semiconductor assembly and test units' setups.
Flexible fuel engines to be made mandatory under PLI scheme: Gadkari
On Thursday, Union Transport Minister Nitin Gadkari stressed the use of ethanol in vehicles as a cost-effective and pollution-free alternative to other fuels. He further informed the Lok Sabha that flex-fuel engines would be made mandatory in the coming days. The flex fuel is made with a combination of gasoline, methanol, or ethanol.
The government had approved a Production Linked Incentive (PLI) Scheme for the Automobile and Auto Component Industry. The scheme is ratified with a total outlay of Rs. 25,938 Crore for 5 years.
The idea proposed by the Minister of Road Transport & Highways is to encourage all vehicle manufacturers to power vehicles with flex engines.
The Ministry has already issued guidelines under the PLI scheme to simplify the process. Emphasis is given to encourage the usage of new, innovative, alternative materials such as:
BS6 compliant (E 85) Flex-Fuel Engine,
Heated Fuel Rail for Flex-Fuel Engine,
Heating Element for Flex-Fuel Engine etc.
To reduce the consumption of cement and steel in road construction, the use of innovative materials and construction techniques is being promoted by the ministry.
A panel led by the Cabinet Secretary will decide on increased funding for PLI Pharma
The department of pharmaceuticals has sought the highest government panel to release an additional Rs 3,000 crore under the pharmaceutical drugs plan. A panel led by Cabinet Secretary Rajiv Gauba would look at increasing funding for vaccine production in order to strengthen the manufacturing production-linked incentive (PLI) scheme.
The plan aims to increase local production of pharmaceuticals, in-vitro diagnostics (IVD), and raw materials in India. The additional cash is being requested to boost local vaccine raw material manufacturing. Currently, Rs 15,000 crore have been allocated to this scheme.
Updated Date: 14-12-2021
The government-initiated Production Linked Incentive (PLI) scheme for manufacturing of Advanced Chemistry Cell (ACC) battery storage receives a strong response!
A pre-bid conference was organized by the Ministry of Heavy Industries for prospective bidders for ACC PLI Scheme to address the queries of bidders. 100 participants from 20 companies participated in the conference.
ACCs are the new generation of advanced storage technologies. They can store electric energy either as electrochemical or as chemical energy. In addition, they can convert it back to electric energy when required.
Electric vehicles, solar rooftops, consumer electronics, etc., are the major battery-consuming sectors expected to grow in the coming years. All the demand for ACCs is currently fulfilled through imports as the manufacturing is negligible in India. PLI initiative will reduce import dependence and support the Atmanirbhar Bharat initiative.
The government will increase incentives for solar production
To make India an exporting country, the government plans to increase financing under the production-linked incentive (PLI) scheme. The increase is for domestic solar cell and module manufacture to Rs 24,000 crore from the current Rs 4,500 crore. R K Singh, the minister of power and new and renewable energy, stated that the country's current solar module production capacity is 8,800MW, while solar cell manufacturing capacity is 2,500MW.
The Cabinet authorized a Rs 4,500-crore PLI plan for solar modules in April. The plan aims to build 10,000MW of manufacturing capacity for integrated solar modules, with a present direct investment of Rs 17,200 crore. With the increase in allocation, the PLI scheme's investments and production capacity would expand even further.
42 White good firms to get incentives linked to the production
The Ministry of Commerce has announced recently that it will be offering incentives to 42 companies under the Production-Linked Incentive (PLI) scheme. The companies include air conditioners and LED manufacturers. Initially, 52 such companies had filed their applications for the scheme. The selected companies will be the beneficiaries of the investment of Rs. 4,614 crores.
This scheme is estimated to generate the net income of the companies approximately up to Rs. 81,254 crores in the coming years. Beneficiary companies include:
26 AC manufacturing companies with an investment of Rs. 3,898 Crores.
16 LED manufacturing companies with an investment of Rs. 716 crores.
PLI Scheme will be implemented from FY 2021-22 to FY2028-29 with an estimated outlay of Rs. 6,238 crores. The Ministry commented that the reason behind the investment is to increase the production of the components of the AC units in sufficient quantities in India. Similarly, LED components like LED drivers, LED engines, etc., would be produced under this scheme.