PRASAD Scheme
The PRASAD scheme aims at paving the way for the development and promotion of religious tourism in India.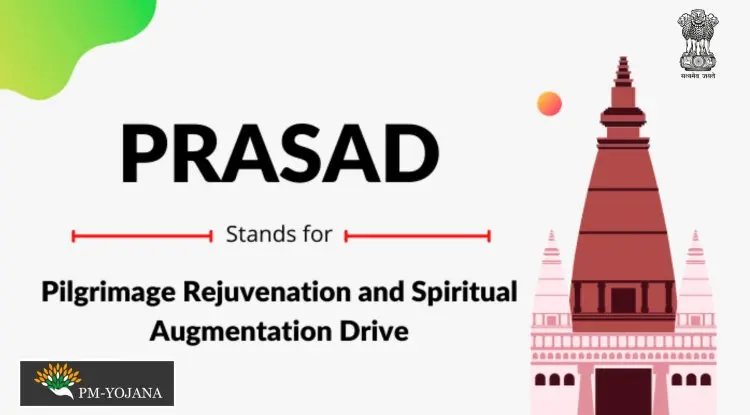 PRASAD Scheme
Pilgrimage Rejuvenation and Spiritual
Augmentation Drive (PRASAD) Scheme
The Pilgrimage Rejuvenation and Spiritual Augmentation Drive (PRASAD) scheme was introduced by the Indian government in 2014-2015 under the Ministry of Tourism. 'Pilgrimage Rejuvenation And Spiritual Augmentation Drive' is the full name of the PRASAD initiative. This program focuses on creating and identifying pilgrimage sites around India in order to enhance religious tourism. Its goal is to give a holistic religious tourist experience by integrating pilgrimage places in a prioritised, organised, and sustainable manner.
Pilgrimage tourism is critical to the growth of domestic tourism. To fully realise the potential of pilgrimage tourism, the government must work together with other stakeholders to develop the designated pilgrimage locations holistically. The PRASAD initiative intends to pave the path for religious tourism growth and marketing in India.
Objectives
The following are the PRASAD scheme's goals:
Take advantage of pilgrimage tourism's multiplier and direct effects on job creation and economic development.
In the development of pilgrimage locations, adhere to the pro-poor tourist philosophy and community-based development.
Making use of public resources and skills.
Develop world-class infrastructure in religious places to sustainably increase tourism appeal.
Increase local community knowledge of the relevance of tourism to them in terms of improved living conditions, increased sources of income, and overall region development.
To develop livelihood in the specified areas, promote local culture, arts, food, handicrafts, and so on.
Functioning of Pilgrimage Rejuvenation and Spiritual Augmentation Drive (PRASAD) Scheme
The PRASAD initiative is being implemented by the Ministry of Tourism, which has established a Mission Directorate. To implement this program, the Mission Directorate identifies projects in the identified cities and coordinates with the states/UTs and other stakeholders.
The projects presented by the Mission Directorate are sanctioned by a Central Sanctioning and Monitoring Committee. A National Steering Committee has also been formed to oversee the scheme's overall evaluation, advice, and monitoring. The Central Government fully funds all project components that are eligible for public funding. This plan aims to strengthen the sustainability of the projects under this scheme by using the voluntary funds available for Corporate Social Responsibility (CSR) and Public-Private Partnership (PPP).
Components Eligible for the Pilgrimage Rejuvenation and Spiritual Augmentation Drive (PRASAD) Scheme
The following project components are eligible for Central Financial Assistance under the scheme:
1.Infrastructure Development which includes-
Development of passenger terminals such as rail, road, air and water transport.
Tourist information/interpretation centers with ATMs or currency exchange counters
Amenities along the roadside, including emergency vehicle repair, breakdown, and refuelling services.
Informative/directive signage
Landscaping, earth filling, water fountains, lighting, fences, pavements, waste bins, seating/shelters, drinking water spots, and so on are examples of general improvements.
Sewerage, water supply, drainage, power, and roadways are examples of external infrastructure.
Historic structures and monuments are restored, illuminated, and conserved.
First-aid stations, restrooms, waiting areas, and cloakrooms are all available.
Telephone booths, cell services, internet access, and Wi-Fi hotspots have all improved communication.
Emergency services for vehicle breakdowns, repairs, and other issues.
Cars, two-wheelers, buses, and other vehicles will be able to park.
Monumental rejuvenation, repair, illumination, aesthetics, and conservation.
Clean technology and environmental development
Energy from renewable sources for tourist infrastructure,
Improved restrooms, waiting room, and other amenities
Building of stores, restaurants, cafes, malls, and theatres, among other things.
First aid centers.
Improved communication services, such as mobile connectivity, internet networks, wifi and hotspots, and phone booths, among others.
Waterways, heliports, ropeways, and other infrastructure development
2.Capacity Development, Skill Development and Knowledge Management which include-
Short duration skill development and training program under 'Hunar Se Rozgar Tak' and 'Earn While You Learn' programs.
Broad basing of travel and hospitality education and training and engagement of Vocational Training Providers.
A focus on utilising local talent and skill in the arts and crafts.
Documenting and preserving the tourism knowledge base for future use.
3.Online Presence consists of the following elements:
Development of interactive and intelligent portals and mobile applications based on GIS.
A system for project management.
Knowledge portal with permissions.
Analysis and reporting of data
The following are examples of inadmissible project components that are not eligible for support under the scheme:
Acquisition of land for development.
Operation, maintenance, and administration of the assets generated, as well as a resettlement and rehabilitation package.
Private entities' assets or structures may be improved or invested in.
Funding for the Scheme
The Ministry of Tourism provides Central Financial Assistance (CFA) to state governments under the Prasad scheme to promote tourism at pilgrim sites. The Central Government will cover 100% of the costs under this program. For improved sustainability, it also includes a Public-Private Partnership (PPP) and Corporate Social Responsibility (CSR).
Cities Identified Under PRASAD Scheme
In consultation with states and partners, the Ministry of Tourism selects pilgrimage destinations. The PRASAD program has identified the following cities:
Amritsar (Punjab).
Kedarnath (Uttarakhand).
Mathura (Uttar Pradesh).
Ajmer (Rajasthan).
Varanasi (Uttar Pradesh).
Gaya (Bihar).
Kamakhya (Assam).
Dwaraka (Gujarat).
Puri (Odisha).
Amaravati (Andhra Pradesh).
Kanchipuram(Tamil Nadu).
Velankanni (Tamil Nadu).