Pradhan Mantri Mudra Yojana (PMMY) - Indian Polity
PM Mudra Loan is a prime scheme launched by govt. of India to provide loans up to Rs. 10 lakh for micro and small enterprises.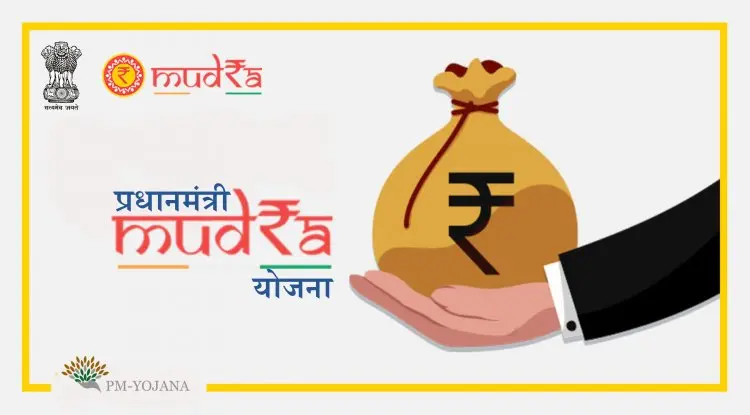 Pradhan Mantri Mudra Yojana (PMMY) - Indian Polity
Pradhan Mantri Mudra Yojana Launch Date: Apr 8, 2015
Pradhan Mantri MUDRA Yojana (PMMY)
Topics Covered:
Government policies and interventions for development in various sectors and issues arising out of their design and implementation.
Development processes and the development industry the role of NGOs, SHGs, various groups and associations, donors, charities, institutional and other stakeholders.

Pradhan Mantri MUDRA Yojana (PMMY)

What to study?

For Prelims: PMMY- key features.

For Mains: Significance of the scheme and concerns raised over loans disbursed under the scheme, how can these loans be prevented from turning into NPAs.

Context: RBI Deputy Governor MK Jain has expressed concerns over growing non- performing assets (NPAs) in Mudra category.

Why the concern?

Non-performing assets ratio or bad loans as a percentage of MUDRA loans were at 2.68% in 2018-19, up 16 basis points from 2.52% in the previous year. These loan NPAs were at 2.89% in 2016-17.
Of the 182.60 million MUDRA loans sanctioned, 3.63 million accounts defaulted as on 31 March.
Need of the hour:
Banks need to focus on repayment capacity at the appraisal stage and monitor the loans through the lifecycle much more closely.
The application of technology in finance has its own share of risks and challenges for regulators and supervisors. Early recognition of these risks and initiating action to mitigate the related regulatory and supervisory challenges is key to harnessing the full potential of these developments.
Microfinance institutions must broaden their client outreach to reduce the concentration risk in their own interest and to serve a wider clientele base. From a financial inclusion perspective they should also critically review their operations so other regions don't remain underserved.
About the Pradhan Mantri MUDRA Yojana (PMMY) scheme:
The PMMY Scheme was launched in April, 2015. The scheme's objective is to refinance collateral-free loans given by the lenders to small borrowers.
The scheme, which has a corpus of Rs 20,000 crore, can lend between Rs 50,000 and Rs 10 lakh to small entrepreneurs.
Banks and MFIs can draw refinance under the MUDRA Scheme after becoming member-lending institutions of MUDRA.
Mudra Loans are available for non-agricultural activities upto Rs. 10 lakh and activities allied to agriculture such as Dairy, Poultry, Bee Keeping etc, are also covered.
Mudra's unique features include a Mudra Card which permits access to Working Capital through ATMs and Card Machines.
There are three types of loans under PMMY:
Shishu (up to Rs.50,000).
Kishore (from Rs.50,001 to Rs.5 lakh).
Tarun (from Rs.500,001 to Rs.10,00,000).
Objectives of the scheme:
Fund the unfunded: Those who have a business plan to generate income from a non-farm activity like manufacturing, processing, trading or service sector but don't have enough capital to invest can take loans up to Rs 10 lakh.
Micro finance institutions (MFI) monitoring and regulation: With the help of MUDRA bank, the network of microfinance institutions will be monitored. New registration will also be done.
Promote financial inclusion: With the aim to reach Last mile credit delivery to micro businesses taking help of technology solutions, it further adds to the vision of financial inclusion.
Reduce jobless economic growth: Providing micro enterprises with credit facility will help generate employment sources and an overall increase in GDP.
Integration of Informal economy into Formal sector: It will help India also grow its tax base as incomes from the informal sector are non-taxed.
Sources: the Hindu.
Sectors Covered under PMMY
To maximize coverage of beneficiaries and tailor products to meet requirements of specific business activities, sector/activity focused schemes would be rolled out. To begin with, based on the higher concentration of businesses in certain activities/sectors, schemes are proposed for:
Sector
Land Transport Sector
Service Sector
Food Product Sector
Textile Sector
Types of Activities under that Sector
Auto-rickshaws, E- rickshaws, etc.
Passenger cars and taxis.
Small-goods transport vehicles.
Other three-wheelers.
Service Sector
Hair and beauty salons, beauty parlours, etc.
Tailoring stores, boutiques, dry cleaning services, etc.
Gymnasium, Athletic training, medical shops, etc.
Garage, Cycle & motorcycle repair centres, etc.
Other services like photocopying shops, courier agencies, etc.
Food Product Sector
Manufacturing papads, pickles, jams/jellies, and other agricultural produce/preservation methods.
Sweet shops, small service food centres, etc.
Everyday catering services, canteens, etc.
Micro cold storages, ice-making factories, Cold chain vehicles, ice cream making industries, etc.
Bakeries and Baked products manufacturing.
Textile Sector
Handloom and power loom industry
Handwork industry like embroidery, chikan work, dyeing and printing, knitting, etc.
Mechanical or computerized stitching for garments and non-garments.
Production of automobile and furnishing accessories, etc.