PM SVANidhi
Ministry of Housing & Urban Affairs launched a scheme PM Street Vendor's AtmaNirbhar Nidhi (PM SVANidhi) to empower Street Vendors .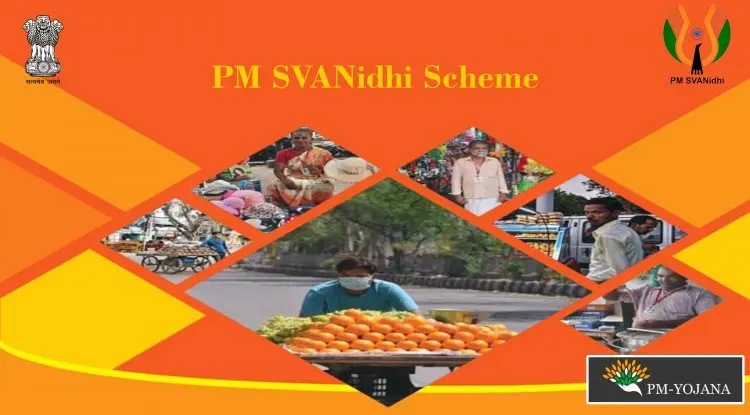 PM SVANidhi
PM Svanidhi Launch Date: Jun 1, 2020
What Is PM SVANidhi Yojana?
The PM Street Vendor's Atma Nirbhar Nidhi (SVANidhi) scheme was launched in June 2020 amidst the COVID-19 pandemic to support street vendors, hawkers, and thelewala, financially. This financial support comes in the form of collateral-free loans of ₹10,000 at low-interest rates for a duration of one year.
Therefore, individuals can accumulate working capital and sustain their businesses with the help of this credit.
In this segment, we discuss the features, objectives, benefits, and application process of PM SVANidhi.
What Are the Features and Objectives of PM SVANidhi Yojana?
The successive lockdowns in India because of the pandemic has adversely affected the livelihood of street vendors. Considering this, the Ministry of Housing and Urban Affairs launched a PM SVANidhi scheme offering holistic development and economic upliftment for hawkers and street vendors.
Here are some features of this scheme -
It is a central government-backed scheme, meaning it is funded by the central ministries directly.
Street vendors can benefit from this till March 2022.
They can avail collateral-free loans and working capital of up to ₹10,000 initially.
In case of early or timely repayment, one can also obtain interest subsidies and a higher loan amount in the preceding transactions.
Owing to digital transactions, street vendors have the possibility of receiving cash back incentives.
Along with these features, the PM SVANidhi Yojana comes with the following objectives -
It provides financial support in the form of working capital loans of up to ₹10,000 at a lower interest rate.
This scheme's objectives also state that vendors are liable to receive incentives on regular repayment of loan amounts.
Also, it rewards digital transactions.
Apart from knowing the features and objectives, individuals might also consider learning about the PM SVANidhi Yojana online application and its details.
What Are the Eligibility Criteria for PM SVANidhi Yojana?
Before opting for PM SVANidhi Yojana online registration, it is advisable to check the following eligibility factors -
Vendors possessing a Certificate of Vending or Urban Local Bodies (ULB) issued valid identity card are eligible under this scheme.
In case an individual fails to present a Certificate of Vending and plans on availing of a street vendor loan, he might consider getting a Letter of Recommendation (LoR) from the municipalities.
Further, vendors residing and active in and around peri-urban or rural areas can also fulfil the eligibility requirement by presenting the same letter.
ULB verified vendors who have left their operational area due to the pandemic are also eligible under SVANidhi.
The Town Vending Committees (TVC) conducted a survey as per the Street Vendors Act of 2014 before issuing them a certificate. To that end, vendors who did not receive a certificate but have been recognised by the TVC are provided with a Provisional Certificate of Vending. These individuals can also qualify for the street vendors loan scheme.
Other than fulfilling the SVANidhi scheme eligibility, beneficiaries might also consider knowing about the the application process.
How to Apply for a Loan Under PM SVANidhi?
Before beneficiaries apply for street vendors loan scheme online, they might want to consider some pre-application steps such as follows -
Understanding the PM street vendor loan application requirement.
Ensuring the registered mobile number is linked to the Aadhaar.
Checking eligibility status as per scheme rules.
Once done, one can proceed to the SVANidhi Yojana online registration by following the below-mentioned steps.
Steps for Online Registration of PM SVANidhi Yojana
Step 1: Visit the official website of PM SVANidhi and click on the "Apply for a loan" option.
Step 2: Provide your mobile number and captcha code.
Step 3: Select your category and fill up the required fields.
Step 4: Finally, tap on "Submit".
By following these steps, you can successfully register yourself under the PM SVA scheme.
What Are the Documents Required for Pradhan Mantri SVANidhi Yojana?
While applying for PM SVANidhi Yojana online to secure a collateral-free loan, vendors might need to present the following documents -
Certificate of Vending or Identity Card issued by ULBs or LoR from TVC or ULBs.
Vendors might also require to furnish any one of the following documents -

Aadhaar card
Voter ID card
MNREGA card
Driving license
PAN card
On successfully presenting the aforementioned documents, one can proceed to the PM SVANidhi scheme online application.
How to Check the Application Status of PM SVANidhi Yojana?
Beneficiaries will be required to follow these steps to check the PM SVANidhi status -
Go to the official PM SVANidhi website.
Enter login ID and password.
PM Sannidhi Yojana application status will be displayed on the screen.
Further, one might also like to know the perks they can enjoy under the PM SVANidhi Scheme.
What Are the Benefits of the PM SVANidhi Scheme?
This central government-backed scheme comes with a host of benefits as follows -
1. Working Capital Loans
A working capital loan of ₹10,000 is available under this scheme for 1 year that can be repaid in monthly instalments. Also, these loans come without any collateral, meaning you need not put your assets on a mortgage to secure this financial product. In case of early or timely repayment of a loan, beneficiaries can obtain an enhanced loan amount limit for the next cycle.
2. Interest Subsidy
Street vendors availing of a working capital loan under the PM vendor scheme are eligible for an interest subsidy of 7%. Borrowers will receive this amount quarterly. This interest subsidy is available till 31 March 2022.
3. Cashback Incentives on Digital Transactions
Individuals opting for digital transactions can avail of incentives in the form of cashback. With the help of a wide network of lending institutions and digital payment aggregators, vendors can get on board with digital processes.
What Are the Guidelines to Follow Before PM SVANidhi Registration?
Street vendors play a significant role in making goods and services available for city-dwellers at affordable rates, thereby becoming a vital constituent of the urban informal economy. As they work with a small capital base, it is only prudent that they require working capital to keep their businesses running, especially during unfortunate scenarios like pandemics etc.
Considering the ongoing COVID-19 situation, the Ministry of Housing and Urban Affairs launched the PM SVANidhi scheme to provide financial support to the street vendors in the form of working capital loans, interest subsidies, incentives and more.
Under the scheme guidelines, one can find the objectives, eligibility, product details and more.
To know more about these guidelines, click here.
By now, you must have understood that the PM SVANidhi scheme extends several benefits to vendors and hawkers in India. Therefore, a skim through the above-mentioned piece can be helpful for them as it covers essential details necessary for a successful application.