Online registration, eligibility verification, and hospital list checking for Atal Ayushmann Yojana 2022
Atal Ayushman Yojana 2022: Online registration, eligibility, and hospital list check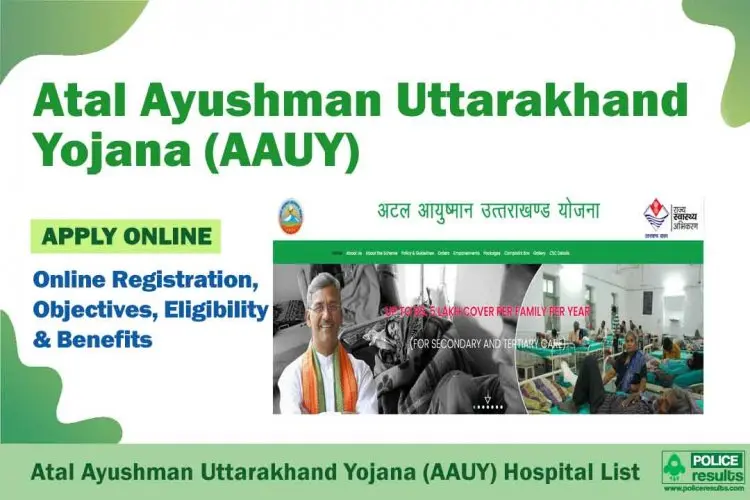 Online registration, eligibility verification, and hospital list checking for Atal Ayushmann Yojana 2022
Summary: The Atal Ayushman scheme was launched on Atal Vihari Bajpayee's birthday. Through the 'Atal Ayushman Uttarakhand Yojana' app & portal, you will be able to see your and your family's details. The State Government will start providing "Atal Ayushman Uttarakhand Yojana", about 18 lakhs and families will also be provided free medical treatment of Rs. 5 lakhs per year. In this way, all the 23 lakh families of Uttarakhand state will get free medical treatment for the treatment of common and serious diseases.
All Applicants who are willing to apply online application then download the official notification and read all eligibility criteria and application process carefully. We will provide short information about "Atal Ayushman Yojana Uttarakhand 2022" like Scheme benefits, Eligibility Criteria, Key Features of the Scheme, Application Status, the Application process, and more.
Uttarakhand Chief Minister Trivendra Singh Rawat launched the 'Atal Ayushman Uttarakhand Yojana', making the hill state the first in the country to offer universal health coverage. In the last two years, 2.24 lakh patients in the state have taken advantage of this scheme. 230 crore has been spent on this. Uttarakhand is the first state in the country to provide cashless treatment to the people of the entire state.
Uttarakhand govt invites Atal Ayushman Uttarakhand Yojana Online Registration Form 2022 at ayushmanuttarakhand.org. Ayushman Bharat – PM Jan Arogya Yojana (AB-PMJAY scheme) was launched by PM Modi on 23 September 2018 which provides facility of free treatment upto Rs. 5 lakh to around 5 lakh poor families of Uttarakhand. Now the state govt. has taken this initiative forward and launched Atal Ayushman Uttarakhand Yojana (AAUY) for which online registration forms are invited at the official website.
AAUY Scheme would add around 18 lakh families to this PM-JAY scheme. Now the total Ayushman Bharat beneficiaries in Uttarakhand would be 23 lakh households who can avail of free treatment at any govt. / private impaneled hospitals. The state govt. provides health insurance cover upto Rs. 5 lakh per family per year for secondary and tertiary care. There is no restriction on family size, age, or gender, and the hospitalization process has been made cashless and paperless.
The Chief Minister of Uttarakhand Trivendra Singh Rawat has started the Atal Ayushman Yojana for the citizens of the state of Uttarakhand to get health facilities easily. Free medical facilities up to ₹ 500000 will be provided to the poor families of Uttarakhand state. Under this scheme, free treatment up to ₹ 500000 will be provided to the citizens of the state in 175 government and private hospitals.
By the way, if we look at this scheme, then the Ayushman Bharat scheme which was started by the Modi government. It is the same scheme but in Uttarakhand, the name of this scheme has been changed to atal Ayushman yojana, Atal Ayushman yojana. Through this post, you will get information related to Uttarakhand Atal Ayushman Yojana. If you get information related to the application process, and eligibility, then definitely read this post.
Benefits and features of UK Atal Ayushman Yojana 2022
Through UK Atal Ayushman Yojana 2022, poor families will be able to get free health check-ups and treatment up to ₹ 500000 in any hospital.
Arrangements have been made by the government to make golden cards in 600 public institutions, where the beneficiaries will be able to take their golden cards.
Under Atal Ayushman Yojana 2022, the people of Uttarakhand can get free treatment for serious diseases in government and private hospitals.
This program provides better medical treatment and reduces the financial burden on the health system.
The citizen of the state will be referred to Community Health Center in Government Hospital, District Hospital, and Base Hospital.
They can get treatment in one of these hospitals.
This benefit will cover the treatment of critical illnesses.
The same beneficiary can directly contact the 104 helplines toll-free number for any additional information.
It is completely cashless and paperless.
Before claiming the benefits of the scheme, you must go through the list of government and non-government hospitals.
Anyone in the beneficiary's family is eligible.
Eligibility for Atal Ayushman Scheme 2022
The applicant must be a permanent resident of Uttarakhand.
Only economically poor families in the state are eligible under this scheme.
The beneficiary should carry his Golden Card and Aadhar Card with him while in the hospital.
To be eligible for the program,
Beneficiaries will have to present their Ration Card, Voter ID Card, MSBY Card, and Aadhar Card along with their Identity Card.
If such families in Uttarakhand are covered by CGHS or any other government health insurance scheme, then they are not covered under this program.
Documents of Atal Ayushman Yojana 2022
applicant's radar card
NFSA Ration Card (the Year 2014-15), MSBY Card,
Chief Minister's letter in Atal Ayushman Uttarakhand Yojana,
Household ID in SECC data HH ID
Voter ID Card
identity car
Address proof
mobile number
Ration card
passport size photo
Such beneficiaries of Uttarakhand state who want to get benefits under this scheme. They have to apply online under this scheme. The same Atal Ayushman Scheme 2022, Atal Ayushman Yojana 2022 has been started for 1 whole year. The Chief Minister has said that so far 110000 patients have been given free treatment under this scheme. 104.86 crores have been spent on the treatment.
At the same time, what is the purpose of launching this scheme in the state, you all would know that the financial condition of such poor families in the state is very weak? Those who are making their living in some way. So that free medical facilities up to ₹ 500000 can be provided and such economically weak poor families of the state can be directly helped. Under this scheme, no matter how many members of the beneficiary family, women or men, can easily get their treatment done.
Under this scheme, such beneficiary families of Uttarakhand state who have received golden cards under Atal Ayushman Yojana. Under the PMJAY scheme, free treatment and tests can be done for diseases like brain tumors, cancer, kidney disease, bypass surgery, and neuro. And as soon as the golden card is made available under the scheme, they will be eligible to get free treatment for up to ₹ 500000.
Under Atal Ayushman Yojana "Golden Card", it will not happen if a relative is admitted to the hospital through your golden card. Apart from your family member, no one else will be able to use this "Golden Card". To get PM JMI Golden Card, you have to go to Common Service Center, you can apply for Golden Card by giving information related to it.
Under the PMJAY scheme, over 10 crore families are covered with health insurance of ₹5 Lakhs. The scheme promises cashless treatment at public hospitals as well as impaneled private hospitals. Moreover, expensive surgeries like knee replacements, coronary bypass, and others are also covered. The prime benefit of the PMJAY scheme is to provide financial protection during unforeseen events. So, let's understand the PMJAY eligibility criteria and the registration process in detail.
Via mobile app
To see the Atal Ayushman Yojana Eligibility List, you open the Google Play Store on your mobile phone.
After this, you search the Atal Ayushman Atal Yojana app from the Play Store.
You have to install the mobile app on your mobile.
After installing you can see your name in the Ayushman Bharat Atal Yojana list with the help of your mobile.
see the name in the atal Ayushman yojana list
First of all, make your access to the official website of the scheme.
After visiting the official website, the homepage will appear in front of you.
See the name in the Atal Ayushman Yojana list.
On going to the home page, you will see the option to check your family's eligibility.
Clicking on this option will open the next page.
Atal Ayushman Uttarakhand Yojna is a historic strong step of the Uttarakhand government in the field of public health, which provides free medical facilities to 23 lakh families of the state. Under the Atal Ayushaman Uttarakhand scheme, every citizen of the state will be given an atal Ayushaman golden card, which will have to be shown while getting treatment for the disease. These cards can be made by visiting the nearest hospital or common service center. Under this government scheme, every citizen of the state is entitled to a medical cover of Rs 5 lakh.
Atal Ayushman Uttarakhand Yojna is such a scheme, as soon as it is mentioned, the government is seen wishing for better health than the common man. Atal Ayushman Uttarakhand Yojana has been started by the Government of Uttarakhand for the citizens living in the state.
| | |
| --- | --- |
| Name of the Article | Atal Ayushman yojana Uttarakhand |
| Benefits | Health insurance for Uttrakhand citizen |
| Official Website | https://ayushmanuttarakhand.org/ |
| How to Check List | Online |
| Managed By | Govt. Of Uttarakhand |