Make In India
Make in India - Reforms have been initiated for the first time around Ease of Doing Business to boost investor confidence.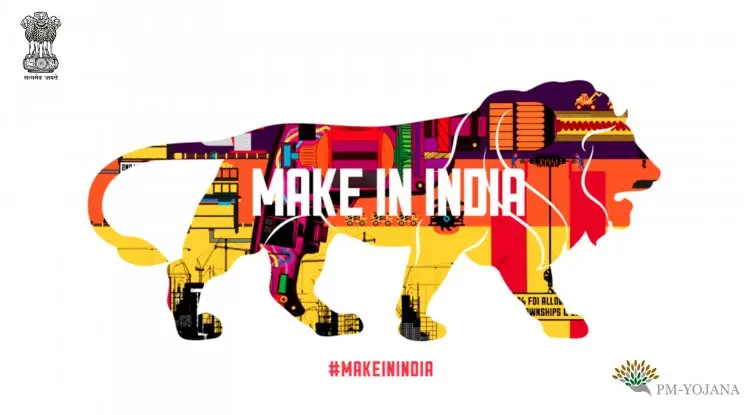 Make In India
Make In India Launch Date: May 25, 2014
Make in India
INTRODUCTION ON MAKE IN INDIA
India is the largest economyand second largest highly populated country in the world. India is highly effected by unemployment, illiteracy and poverty.
In order to solve all these problems people in India need more employment opportunities coupled with other facilities like education, skill set etc. Make in India is an initiative launched by Prime Minister Narendra Modi. "Come make in India. Sell anywhere but Make in India" is the motto of this campaign.
The main aim of this campaign is to increase investment and product manufacturing in India by both national and international companies.
This campaign attracts foreign investors to invest in India and manufacturing goods in India, this encourages domestic as well as multinational companies to produce goods in India. This will lead to employment of million in the country and it will also attract many foreign companies to set up their business in India.
The symbol of make in India is lion with many wheels, which is inspired from national emblem of India, indicating courage strength, wisdom and tenacity. Due to lack of resources and policies, many businessmen and entrepreneurs leave India or invest in foreign countries, causing poorer economy.
Make in India campaign with various resources would attract many people from across the globe to invest in the country and establish their business in India.
Make in India campaign was launched by government of India under Prime Minister Narendar Modi's leadership on 25th Sept' 2014 in Delhi. Leading entrepreneurs and CEOs of numerous companies from across the world attended the event. After the launch many investment commitments and inquiries emerged.
The campaign has identified 25 sectors, where development is needed and with the development of these sectors would lead to rapid economic growth. The sector include – Automobile, Aviation, biotechnology, chemicals, Construction, defense, electrical machinery, food processing, IT & BPO, Media and entertainment, leather, mining, railways, hospitality, textiles and garments, tourism, automobile components, renewable energy, roads and highways etc.
Recently Make in Maharashtra was started by Government of Maharashtra to create a business friendly atmosphere in Maharashtra. A Make in India week was held in Mumbai and was attended by numerous domestic, international, foreign government delegations.
OBJECTIVE OF MAKE IN INDIA
The manufacturing sector contributes 15% to GDP, Make in India would grow this to 25%, attract much of foreign direct investment. The objective of Make in India is to make India a manufacturing hub for all the major sectors and to make India a leading manufacturer among various fields among different countries.
Many companies from all over the world are being invited to make investment and set up manufacturing units in the country and to provide employment opportunities to skilled and talented people in the country. Thus, providing more employment thereby increasing purchasing power among public. This would also lead to healthy relationships with other countries.
Also to decrease imports and increase exports, enhance research and development. The world is ready to embrace this vision and already on the path of becoming reality.
ADVANTAGES AND DISADVANTAGES OF MAKE IN INDIA
India has many skilled and educated labor and mostly unemployed due to lack of opportunities in various platforms. This initiative would bring up lot of employment opportunities. Make In India focuses on creating number of job opportunities, and skill enhancement, providing a good status for the youth of the country.
The young generation has lot of skills and new ideas and but due to lack of proper channel they are not willing to stay in the country, Make in India initiative would encourage them to put their skills here and take the industrial sector to a new dimensions.
It would create a demand for skilled crowd in specific sectors such as automobile, chemicals, IT, Pharmaceuticals, electrical, construction, textiles, media and entertainment, tourism, hospitality etc. More employment opportunities would increase the standards of living of public. Make in India would bring up best infrastructure in the country, by developing rural areas which would lead to development of country.
The most negative impact of Make in India would be on agriculture sector, the more the industrial sectors are given preference, the more agriculture sectors would be neglected. The more industries are being set up there is a danger to depletion of natural resources as the industries may take up the lands and other for establishment of manufacturing units and pollution levels may increase, small entrepreneurs may have a threat to their business. The training for labor may be a huge cost as manufacturing sectors demand highly skilled labor.
CONCLUSION OF MAKE IN INDIA ESSAY
The Make in India project also has a website, which highlights each of the sectors, with statistics, necessity to invest, policies for investors, government support and other FAQs related to the campaign. Despite The campaign has gained much popularity, it has its share of criticism.
It is said the labor reforms and policy reforms which are most important for make in India have been implemented yet.
Well, the program is growing strong and is focused on transforming the country into a global business hub. The campaign would encourage foreign investors and countries to invest in Indian manufacturing sector. If the plan is implemented successfully it would help in 100 smart cities and affordable housing in India.
The main aim is to provide as much as employment opportunities, solid economic growth and to attract capital investment in India. These kinds of initiative will make India a dominant in manufacturing industry. It is a part of nation building activities.
This also aims at high quality standards and minimizing the impact on environment.The campaign would also reduce the waiting time of manufacturing projects, and encourage corporate firms to do business in India.
The campaign is being received in a friendly manner by world and the objective of transforming the country into a global manufacturing and business hub will surely be met. This will benefit both the parties, country and investors.
Make in India is a long term ambitious project but it will definitely help in economic development of the country. Make in India initiative has been highlighted at all key international events and has become the fastest and largest growing government initiative.
This initiative would be a grate source of creating employment both for men and women, educated and uneducated and help them increase their standard of living thereby leading a happy and peaceful life in a dignified way.