Mahadbt Scholarship 2022: Application, Deadline, and Eligibility
the important documents that you will need to apply for the Mahadbt Scholarship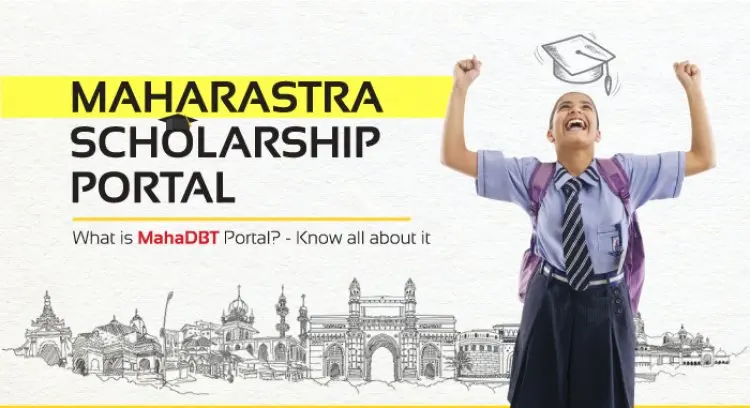 Mahadbt Scholarship 2022: Application, Deadline, and Eligibility
The most beneficial scholarship scheme of the Maharashtra state is known as the Maharashtra direct benefit transfer scholarship for the year 2021. If you want to know more about the Maharashtra DBT scholarship then you are at the right place. Today we will share with our readers the important aspects of the Maharashtra direct benefit transfer scholarship. We will answer certain questions such as the eligibility criteria for the different and separate schemes of scholarship that are launched in the Maharashtra DBT portal. We will also share the application procedure and the important documents which are essential if you are applying for Mahadbt Scholarship Also, there is a bundle of scholarships provided by the concerned authorities of the Maharashtra government.
The Maharashtra government has come up with a portal through which they provide the Mahadbt Scholarship to all of the students of the Maharashtra state who are not able to pay their fees because of its high rate. Also, an online portal has been designed so that the students no longer have to visit the concerned government office to avail the benefit of the different scholarships which are available for them. There are different scholarships present for different types of students and different types of categories and religions of the student.
The main objective of Mahadbt scholarship 2021 is to provide financial assistance to all meritorious students who are unable to continue their education due to their financial conditions. Now with the help of the Mahadbt Scholarship students of Maharashtra will be able to continue their education without thinking about the financial burden. This will increase the literacy rate and will automatically improve the employment rate. Now with the help of this scholarship scheme more and more students will be able to fulfill their dream of getting an education.
Documents Required For Mahadbt Scholarship
The following documents are required while applying for the Mahadbt Scholarship transfer scholarship:-
Income Certificate (Provided by Tahsildar)
Cast Certificate.
Cast Validity Certificate
Mark sheet for last appeared examination
Mark sheet for SSC or HSC
Father date Certificate(if required)
Hostel Certificate (if required)
CAP round allotment letter
Aadhar card
Ration card
Disability certificate
Bank account details
Residence proof
Birth certificate
Passport size photograph
Mobile number
Mahadbt Scholarship Online Registration Procedure
To apply for the Mahadbt Scholarship you need to follow the simple steps given below:-
First, visit the Official website link given here
Click the New Registration button.
Enter Aadhaar Number
Click on the "Send OTP" button.
Login using your credentials.
Choose the Scheme.
Fill out the Application Form
Upload the documents
Submit the Maha DBT Scholarship Application Form.
Take a printout
Do Applicant Login
First of all, go to the official website of the Mahadbt Scholarship.
The home page will open before you
On the homepage, you are required to click on the post-matric scholarship link
Now you are required to click on the applicant login
A new page will appear before you
On this new page, you are required to enter your username, password, and captcha code
After that, you are required to click on the login
By following this procedure you can log in to the portal
Do Institute/Department/DDO Login
Go to the official website of Mahadbt Scholarship,
The home page will open before you
Now you are required to click on the post-matric scholarship link
After that, you are required to click on institute/dept/DDO login
A new page will appear before you
On this new page, you are required to enter your username, password, and captcha code
After that, you are required to click on the login
By following this procedure you can do Institute/department/DDO login
Lodge Grievance Or Give Suggestions
Visit the official website of MHA DBT
The home page will open before you
On the homepage, you are required to click on the post-matric scholarship link
No, you are required to click on grievance/suggestions
A new page will appear before you
On the same page you are required to enter the following information:-

Grievance/suggestion type

After that, you are required to upload the screenshot (if any)
Now you are required to click on submit
By following this procedure you can lodge a grievance or give suggestions
Download Guidelines And Rules
Go to the official website of MHA DBT
The home page will open before you
On the homepage, you are required to click on the post-matric scholarship link
Now you are required to click on guidelines and rules
A new page will appear before you
On this new page guidelines and rules will appear before you in PDF format
You have to click on the download option in order to download it
Procedure To Download College List
Visit the official website of MHA DBT
The home page will open before you
Now you are required to click on the post-matric scholarship link
After that, you are required to click on the download college list
As soon as you click on this link college list will start downloading on your device
By following this procedure you can download a college list
The department of social justice and special assistance Maharashtra provides this scholarship at the post-matric level. Under this scholarship, various types of assistance are provided to the students in the form of tuition fees, exam fees, education fees, maintenance Allowance, etc. You apply for this scholarship scheme throughMaha DBT Portal. Before applying you are required to check your eligibility criteria. There are five types of scholarships that are offered by the social justice and special assistance department. You can view the details regarding the eligibility criteria for these scholarships below
There are four types of scholarships that are offered by the tribal development department under the Post Matric Scholarship through the Mahadbt Scholarship.These scholarships can be availed only by the scheduled category students. Under this scholarship scheme, various kinds of financial assistance are provided in the form of tuition fees, examination fees, vocational education fees, maintenance allowance, etc. If you want to apply for a tribal development department scholarship then you are required to check your eligibility criteria. The details of eligibility criteria of tribal development department scholarship schemes are as follows
Usually, technical education is more costly than general education and there are many students who despite being good in academics can not afford to pursue technical education. So the Directorate of Technical Education of Maharashtra offers 2 types of scholarships for those students who are undergoing technical Education in engineering, biotechnology, architecture, etc. Under this scholarship scheme, various kinds of financial assistance are offered to the students so that they can continue their education without thinking about the financial burden. The details of the eligibility criteria of the technical education scholarship scheme are as follows
All those students who want to take higher education can take benefit from a higher education scholarship scheme. Through this scholarship scheme financial assistance is provided to all the students who cannot afford to pursue their higher education due to financial issues. There are 13 types of scholarships that are offered by the directorate of higher education for the students of Maharashtra. It has to be noted that only the domicile of Maharashtra can take benefit from this scholarship scheme. The details of the eligibility criteria of the directorate of higher education scholarship scheme are as follows
Under this scholarship scheme financial assistance is provided to all the students who belong to OBC, VJNT, SEBC, and SBC categories. Only those students who belong to the above-mentioned categories can apply for this scholarship scheme. Those students who are pursuing courses approved by the government can take benefit from this scholarship. Before applying for this scholarship applicants are advised to check their eligibility criteria. The details of eligibility criteria for the OBC, SEBC, VJNT & SBC welfare department Scholarship scheme are as follows
Those students who are pursuing their education in medical and research departments can avail the benefit from the scholarship schemes that are offered by the directorate of Medical Education and research. Under this scholarship scheme, various kinds of financial incentives are offered to students so that they can finance their education. There are two types of scholarships that are provided under the Directorate of Medical Education and research which are the Rajarshiri Chhatrapati Shahu Maharaj fee reimbursement scheme and the DR Panjabrao Deshmukh hostel maintenance allowance. The details of the eligibility criteria for these scholarships offered by the Directorate of Medical Education and research are as follows
In order to enable and motivate the students to continue their education. The school education and sports department offer two types of scholarships which are open merit scholarships in junior College and merit scholarships for economically backward class students. All the students who are eligible to apply under these scholarship schemes are required to visit the Maha DBT portal. Students are advised to go through the eligibility procedure before applying for these scholarship schemes. The eligibility criteria to apply for school education and sports department scholarships are as follows
The minority development department scholarships are offered to those students who belong to the minority community. Under this scholarship scheme, 3 types of scholarship are provided to minority students which are state minority Scholarship part II (DHE), Scholarship for students of minority communities pursuing higher and professional courses (DTE), and scholarship for students of minority communities pursuing higher and professional courses (DMER). Under this scholarship scheme, various kinds of financial incentives are provided to the students. Before applying for this scholarship scheme the students are advised to check the eligibility criteria. The eligibility criteria for minority development department scholarship schemes are as follows:-
There is only one scholarship that is provided by the skill development, employment, and Entrepreneurship department which is vocational training fee reimbursement for the student belonging to socially and educationally backward class and open category students. Under this scholarship scheme students who are admitted to Government ITIs and private ITIs through the Central admission process will be provided with fee reimbursement benefits if they qualify the eligibility criteria. The eligibility criteria of this scholarship scheme are as follows
Mahatma Phule Krishi Vidyapeeth scholarships are provided to those students who are children of farmers who belong to economically backward class and are admitted to diploma/ degree/ post-graduate/ professional courses through a centralized admission procedure. Under this scholarship scheme, various kinds of financial incentives are provided in the form of reimbursement of tuition fees, examination fees, etc. There are two types of scholarship schemes that are offered by Mahatma Phule Krishi Vidyapeeth, Rahuri which are Rajashree Chhatrapati Shahu Maharaj Shiksha should shishyavrutti Yojana and Dr. Panjabrao Deshmukh nirvana Bhatta Yojana. Students are advised to check eligibility criteria before applying which are mentioned below
The directorate of art scholarship is offered to those students who have taken admission in courses that come under the directorate of art category. Under this scholarship scheme, there are two types of scholarships that are offered to the students which are Rajashree Chhatrapati Shahu Maharaj Shiksha Shulk Shishyavrutti Yojana and Dr. Panjabrao Deshmukh Nirvah Bhatta Yojana. Various kinds of financial incentives are provided under this scholarship scheme. Before applying for this scholarship scheme students are advised to check the eligibility criteria. The eligibility criteria for the directorate of art scholarship scheme are as follows
MAFSU Nagpur scholarship is provided to those students who belong to the economically weaker section of society. This scholarship is funded by the Maharashtra animal and fishery Science University. There are two types of scholarships that are provided under this scholarship scheme. Under this scholarship scheme, various kinds of financial incentives will be provided to the students who are admitted to diploma/ degree/ postgraduate/ professional courses through the Central admission procedure. If you want to avail the benefit of this scholarship scheme then you are required to go through the eligibility criteria very carefully. The eligibility criteria of this scholarship scheme are as follows
| | |
| --- | --- |
| Name | MahaDBT Scholarship 2022 |
| Launched by | The Government of Maharashtra |
| Beneficiary | Students doing post-matric studies |
| Objective | Financial funds |
| Official site | https://mahadbtmahait.gov.in/ |