Jal Shakti Abhiyan 2020| PM Jal Jeevan Mission Details & Benefits
Jal Shakti Abhiyan has been launched under the newly formed Jal Shakti Ministry.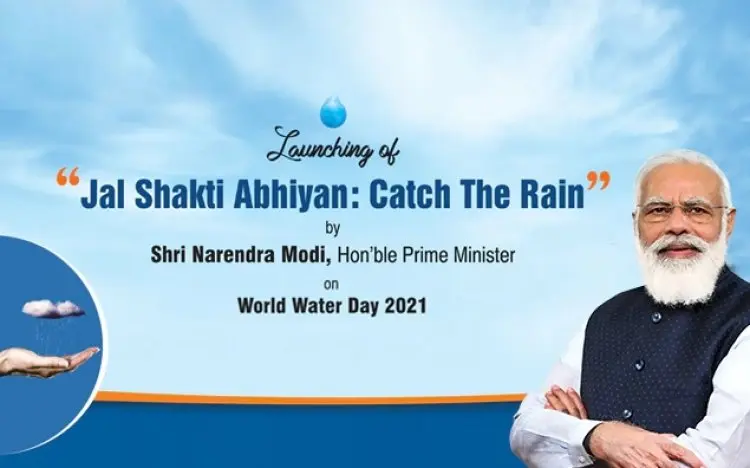 Jal Shakti Abhiyan 2020| PM Jal Jeevan Mission Details & Benefits
Jal Jeevan Mission Launch Date: Jul 1, 2019
Central Water Commission is a premier Technical Organization of India in the field of Water Resources and is presently functioning as an attached office of the Ministry of Jal Shakti, Department of Water Resources, River Development and Ganga Rejuvenation, Government of India. The Commission is entrusted with the general responsibilities of initiating, coordinating, and furthering in consultation with the State Governments concerned, schemes for control, conservation, and utilization of water resources throughout the country, for purpose of Flood Control, Irrigation, Navigation, Drinking Water Supply and Water Power Development. It also undertakes the investigations, construction, and execution of any such schemes as required.
Central Water Commission CWC is headed by a Chairman, with the status of Ex-Officio Secretary to the Government of India. The work of the Commission is divided into 3 wings namely, the Designs and Research (D&R) Wing, River Management (RM) Wing, and Water Planning and Projects (WP&P) Wing. Each wing is placed under the charge of a full-time Member with the status of Ex-Officio Additional Secretary to the Government of India and comprises a number of Organizations responsible for the disposal of tasks and duties falling within their assigned scope of functions
National Water Mission's (NWM) campaign "Catch The Rain" with the tagline "Catch the rain, where it falls, when it falls" is to nudge the states and stake-holders to create appropriate Rain Water Harvesting Structures (RWHS) suitable to the climatic conditions and sub-soil strata before monsoon.
Under this campaign, drives to make check dams, water harvesting pits, rooftop RWHS etc; removal of encroachments and de-silting of tanks to increase their storage capacity; removal of obstructions in the channels which bring water to them from the catchment areas etc; repairs to step-wells and using defunct bore-wells and unused wells to put water back to aquifers etc are to be taken up with the active participation of people.
To facilitate these activities, states have been requested to open "Rain Centers" in each district-- in Collectorates/Municipalities or GP offices. During this period, these Rain Centres will have a dedicated mobile phone number and will be manned by an engineer or a person well trained in RWHS. This centre act as a technical guidance centre to all in the district as to how to catch the rain, as it falls, where it falls.
Efforts should be made so that all buildings in the district should have rooftop RWHS and that maximum quantity of rain water falling in any compound should be impounded within the compound itself. The basic aim should be that No or only limited will water to flow out of the compound. This will help in improving soil moisture and rasing ground water table. In urban areas it will reduce water gushing onto roads, damaging them and will prevent urban flooding.
BACKGROUND
The Ministry of Water Resources (formerly Water Resources, River Development, and Ganga Rejuvenation) is the apex body for the formulation and administration of rules and regulations relating to the development and regulation of water resources in India.
The Ministry was formed in January 1985 following the bifurcation of the then Ministry of Irrigation and Power, when the Department of Irrigation was re-constituted as the Ministry of Water Resources.
In July 2014, the Ministry was renamed "Ministry of Water Resources, River Development & Ganga Rejuvenation", making it the National Ganga River Basin Authority for conservation, development, management, and abatement of pollution in the river Ganges and its tributaries.
Prime Minister Narendra Modi had promised this at an election rally in Tamil Nadu's Ramanathapuram.
Modi government-II gets a separate ministry called Jal Shakti (water power).
The Jal Shakti ministry has been formed on May 31, 2019, by reorganizing erstwhile ministries of Water Resources, River Development, and Ganga Rejuvenation.
Water is at the top of the development agenda of the new government, as emphasized by the prime minister at Niti Aayog's governing council meeting last week. Encouraging the participating chief ministers to give top priority to the subject of water in all its different avatars, especially conservation, the prime minister emphasized that the first concrete step taken by the central government towards a holistic and integrated perspective on water has been the constitution of the new Jal Shakti Mantralaya.
This bold institutional step has integrated the erstwhile Ministry of Water Resources, River Development, and Ganga Rejuvenation with the former Ministry of Drinking Water and Sanitation, and has led to the formation of a single new ministry focused on the water with a capital W. This is a major step towards the consolidation of the management of water resources with the delivery of drinking water and sanitation — a much-needed step in the direction of ensuring India's water security — as well as a thrust towards the goal of providing safe and adequate piped water supply for all households.
Until now, the institutional landscape for water in India has been somewhat fragmented, with about seven ministries and more than 10 departments having a say on different aspects of water management and use. Not only have these had some overlapping roles and responsibilities, but no single body had the ultimate oversight and authority necessary to resolve conflicting issues and take the necessary decisions. This led to these ministries and departments working in silos. While the Niti Aayog had made a solid start at integrating the sub-sectors of water by creating an integrated water management index and ranking states on this basis, the creation of the new Jal Shakti Mantralaya is a big bang governance reform that will have a permanent and positive impact on integration in the water sector.
Integrated water management in India has never been more relevant than it is today. India is entering water crisis territory, with certain estimates indicating that water demand will exceed supply by a factor of two by 2030 if we continue with a business-as-usual approach. This has the potential of driving economic losses of an estimated 6 percent of GDP by 2050, and potentially leading to a significant percentage of our population having limited or no access to drinking water. Recent satellite data has also shown that India's taps could run completely dry in the medium term, with cities like New Delhi, Bengaluru, Chennai, and Hyderabad completely running out of groundwater.
Some inefficiencies in the water sector have led to challenges with respect to important outcomes such as rainwater storage, and greywater treatment and reuse. Presently, India captures only eight percent of its annual rainfall, among the lowest in the world. Lack of proper maintenance of existing infrastructure causes further losses of almost 40 percent of piped water in urban areas. Treatment and reuse of greywater are almost non-existent. As a benchmark, Israel, another country facing severe water shortages, treats 100 percent of its used water, and recycles 94 percent of it, meeting more than half of its irrigation needs through this reused water.
Attacking opposition members for raising questions over the intent of the government, Mr. Shekhawat pointed out that more than 3.77 crore households were provided tap water connections under the mission. "Modi hai to umkin hai (Modi can make it possible)," he added. 'Jal Jeevan Mission', a Rs 3.6-lakh crore flagship program of the Narendra Modi government, aims to provide tap water connections to all rural households by 2024.
Congress leader Digvijaya Singh had on Monday slammed the government for not utilizing the allocated funds for various projects and programs in the Ministry of Jal Shakti. "Questions are being raised on my competence, acceptance, the ability for governance… over non-utilization of funds," Mr. Shekhawat said, adding that it was time for opposition-led state governments, including Punjab, West Bengal, and Jharkhand, to introspect as to why the funds remained unspent.
The overall allocation to the Earth Sciences Ministry has increased to Rs 2653.51 crore in 2022-23 from the revised estimates of Rs 2369.54 crore in the previous budget. The Budget Estimates for this year include Rs 450 crore on capital expenditure. Sitharaman has allocated Rs 650 crore for the Deep Ocean Mission in the Budget for 2022-23 as against Rs 150 crore allocated in the revised estimates the previous year. The Union Cabinet approved the Deep Ocean Mission in June last year. The mission was announced in the Union Budget last year.
The government also seeks to launch a manned mission to ocean floors up to a depth of six km and has put in motion plans to develop deep-sea vehicles for the purpose. The allocation for meteorology has increased from Rs 469.75 crore in the previous budget to Rs 514.03 crore for 2022-23. The Deep Ocean Mission includes the development of technologies for deep-sea mining, manned submersible, and underwater robotics; the development of ocean climate change advisory services, and technological innovations for exploration and conservation of deep-sea biodiversity. The allocation to O-SMART has increased to Rs 460 crore in 2022-23 as against the revised estimates of Rs 394 crore in the previous budget.
"Prior to this, she was serving as Punjab Chief Secretary from 26th June 2020. Earlier she served as Additional Chief Secretary of the Departments of Housing & Urban Development, Government of Punjab and Industries & Commerce, IT and Investment Promotion. She was ACS/ Principal Secretary of the Department of Health and Family Welfare since April 2012 for 5 years," the Ministry of Jal Shakti said in a statement.
The ₹3.6 trillion Jal Jeevan Mission (JJM) scheme aims to ensure assured tap water supply or 'Har Ghar Jal' to all rural households by 2024, with several states having presented their commitment to providing tap water connections to all rural households before 2024.
"She also served as Principal Secretary Department of Medical Education and Research, and Principal Secretary Finance, Punjab. Ms. Mahajan served as Joint Secretary to the Prime Minister of India from 2007-2012, and earlier in 2004-05 as Director in the Department of Economic Affairs, Ministry of Finance," the statement added. Over 5.50 crore rural households across the country have been provided with tap water connections since the JJM launch in August 2019.
"She has served in various capacities in the State of Punjab, as M.D. of the Punjab Infrastructure Development Board, as the first Director Disinvestment in the State, as Secretary, Power, and as Special Secretary, Expenditure. She has over 8 years experience in cutting edge positions at the field level, including as Deputy Commissioner (the first woman to be posted as such in Punjab in 25 years)," the statement added.
Union Minister of Jal Shakti Shri Gajendra Singh Shekhawat announced the 3rd National Water Awards-2020.
In the Best State category, Uttar Pradesh has been awarded first prize, followed by Rajasthan and Tamil Nadu.
The award comes with a citation, trophy, and cash prize.
Muzaffarnagar in Uttar Pradesh received the best district award in the northern zone followed by Shahid Bhagat Singh Nagar in Punjab.
Thiruvananthapuram in Kerala received the best district award in the southern zone.
East Champaran in Bihar received the best district award in the eastern zone.
Indore in Madhya Pradesh received the best district award in the western zone.
The National Water Award was launched by the Jal Shakti Ministry in 2018 to recognize and motivate individuals and organizations doing exemplary work in the field of water resources management.
Overall 57 awards have been announced in 11 categories.
These include Best State, Best District, Best Village Panchayat, Best Urban Local Body, Best Media (Print & Electronic), Best School, Best Institution/RWA/Religious organization for Campus usage, Best Industry, Best NGO, Best Water User Association, and Best Industry for CSR Activity.
India's current water requirement is estimated to be around 1,100 billion cubic meters per year, projected to go up to 1,447 billion cubic meters by 2050.
| | |
| --- | --- |
| Name Of The Board | Ministry of Defence |
| Name Of The Post | Director (Administration) |
| No of vacancies | 1 |
| Last date | Within 60 days |
| Status | Notification released |