Hunar Haat Application Form 2021
Hunar Haat Application Form: Hunar Haat has provided a platform for various talented people in the country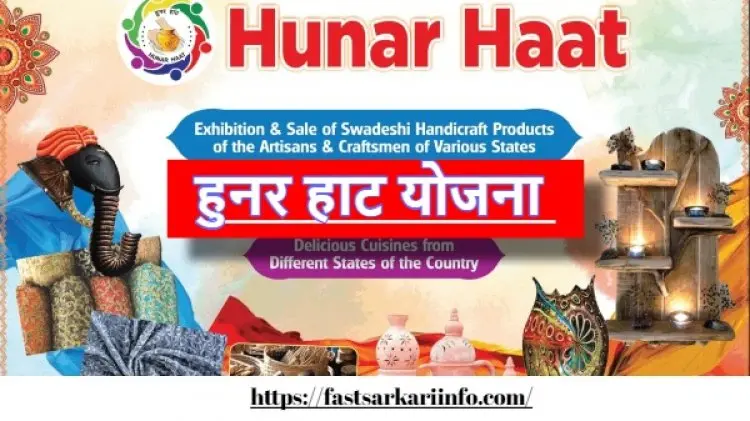 Hunar Haat Application Form 2021
Hunar Haat Application Form: Hunar Haat has provided a platform for various talented people of the country to showcase their talent. Modi Ji's slogan "Vocal to Local" to "Mission Shakti" is the prominence of Hunar Haat. Hunar Haat has been started in different states. Hunar Haat is one such platform that provides a platform to the top most influential workers and craftsmen by the Ministry of Minority Affairs. Due to this, his talent becomes world-famous but he is also honored. The talented artisans participating in Hunar Haat get an opportunity to showcase themselves at the national level. Today we are going to give you information related to Hunar Haat through this article, how you can participate in Hunar Haat, and how to display your goods. What will you have to do for this, what documents are required and what is the registration process? Complete information is available in this article.
People from different places have participated in Hunar Haat organized in Delhi on 20 February 2021. According to the information, more than 12 lakh people have participated in Hunar Haat. full role. 2021 Hunar Haat program has been organized at Jawaharlal Nehru Stadium and in this era of Corona, full care is being taken of safety, in this staff has also been appointed, who take full care of safety, and it is also mandatory to come here wearing a mask.
The Minister of Minority Affairs has said that lakhs of people are participating in Khole Ke Hunar Haat on February 20. It is mainly dedicated to the Book for Local campaign and this event has been started to provide recognition to the workers working in the local at the national level. We all know that there are many such craftsmen workers in our village whose art is amazing to see. But due to not going out of the village, his art gets buried there, but now through Hunar Haat, he can achieve a good position by displaying his art at the national level.
According to the information, the number of participants is expected to increase further in the next few days, it is expected to attract more than 20 lakh visitors. This 10-day long Hunar Haat was inaugurated by Defense Minister Rajnath Singh. Various politicians also encouraged and encouraged the craftsmen by participating in Hunar Haat. Apart from this, there were many such people who played an important role in identifying and expanding their talent.
The local people who saw this amazing art scene with their own eyes not only encouraged the people but also bought them and brought them to their homes. In the Hunar Haat held in Delhi, not only the local craftsmen but people from all over India came here to show their skills. Out of which the major states are Andhra Pradesh, Assam, Bihar, Chandigarh, Gujarat, Haryana, Jharkhand, and Uttar Pradesh.
Information about the major products available in Hunar Haat
paintings
Ajrakh block print
clay toys
bamboo products
jute can
Khadi Products
Banarasi silk
lac bangles
Rajasthani Jewelry
Phulkari
e.t.c
Hunar Haat Application Form: National Minorities Development and Finance Corporation was incorporated as a company on 30th September 1994 under Section 25 of the Companies Act 1956. This institution is the apex body for the minority community at the national level. Its main country is that self-employment should be promoted and new techniques for increasing the means of income should be made available to the people so that they can start their businesses and get sources of income.
Hunar Haat Delhi 2021
Hunar Haat's 10-day program organized in Delhi is being done at Jawaharlal Nehru Stadium. In this, there is a possibility of movement of about 20 lakh people in the two-day program. The theme given by Prime Minister Narendra Modi in 2021 is "Bukkal for Local".
The event of Hunar Haat in Delhi started on 20 February and will end on 1 March 2021.
The timing of Hunar Haat is organized in Delhi at 10:00 am.
The facility of an online website is also available so that people can shop online so that there is no overcrowding during the Karuna period.
The main objective of Hunar Haat organized in Delhi is to provide a platform to the talented workers by the Ministry of Minority Affairs so that they can showcase their talent there.
Even Upgrading the Skill and Training in Traditional Arts Craft is available for development.
Hunar Haat Application Form: The notified minorities are Muslims, Sikhs, Buddhists and Parsis, and Christians as per the National Commission for Minorities Act 1952. After this, in January 2014, the Jain community has also added to this list. Under the National Commission for Minorities, priority is given to women and artisans.
Hunar Haat has provided very good craftsmen and artisans to the country, artisan craftsmen living in remote areas will now gain fame by performing in one place. Has become a trusted brand of rare exquisite indigenous handmade products through Hunar Haat. Hunar Haat was first organized on 11th January 2020 and after that, it is being organized continuously in different states, people from all over the country are becoming available to participate in Hunar Haat but if you have any skills and you can do it. If you want to appear then you have to register yourself first.
Hunar Haat Application Form in Hindi
Hunar Haat is being organized in many cities of the country, out of which Lucknow, Delhi, UP, and many other states are being organized where Hunar Haat is being organized. Through Hunar Haat, craftsmen, artisans, handmade products, etc. are the pride of Hunar Haat.
There are many such people who are very fond of the items made in Hunar Haat, which they also buy, due to which people also get employment. This also increases the income of the people.
After the event, in view of the demand of people for these items, the demand for craftsmen, workers, and people skilled in handicrafts has also increased, due to which they are getting employment and the means of income are also increasing.
In the year 2021, skills ranging from Bukkal for Local to Mission Shakti were inaugurated in Lucknow, this Hunar Haat ran from 20 January to 4 February in which many talented people showed their skills. The 24th Hunar Height was organized in Lucknow. The event was inaugurated by Union Minister Mukhtar Abbas Naqvi and also he said that over the last year more people have joined Hunar Haat. Hunar Haat not only has cable hand cars, and artisans but also various traditional apparel and decorative items. People can also shop here.
In the year 2021, the theme of Hunar Haat was "Bocal for Local". Along the lines of the mantra given by Prime Minister Narendra Modi the country, the team of Hunar Haat has been kept on the same lines as the craftsmen, makers of clay items and other people who are involved in art. is a lover They have to provide a platform, this is a very important step to strengthen the economy of the country.
Through this, the people of the country will be eager to buy the products made in the state and the artisans confined to the village will now be able to show their skills at the state level. The main objective of Follow Tomorrow is to become self-reliant and stop depending on the production of other countries and use the things made in the country itself. This will not only improve the economy of the country but people can start their own businesses and can also inspire other people.
The theme of Hunar Haat in 2020 was kept from "Local to Global". In which the main objective was to increase the attraction of people towards indigenous goods, in which the skills of wooden pass cloth paper clay toys were displayed on the stage. After the start of Hunar Haat, about 7 lakh craftsmen, and hand workers got employment. Due to this, the popularity of indigenous goods among the people is also very big.
The problem of increasing unemployment in the country will also be reduced and the goal of the Government of India is to strengthen the local supply chain of local products in the country. By doing this local product will be strengthened and our economy will improve a lot. This is the purpose of Modi Ji that the people of India should use only the items made in India more and more, so not only our economy will be strong, but if the name of our country and the goods become popular, it will also be used in other countries.
Under Hunar Haat, it has been provided a platform to further train and encourage the indigenous talent of artisan craftsmen of the country. Artisans from all corners of the country are participating in this. The artisans are also being honored for encouraging and encouraging them. Apart from this, it has been decided by the ministry that if the entrepreneurs of every state will do very good work, then they will also be given showrooms.
One Distinct One Product Scheme has been run in the state of Uttar Pradesh and under this scheme, each state has its own identity for a product. The workers of the state have gotten recognition through this scheme. They are also getting their fair price by performing in the market.
Hunar Haat Application Form: Union Minister for Road Transport and Highways Micro Small and Medium Enterprises Shri Nitin Gadkari inaugurated Hunar Haat in the endeavor of the indigenous master artisan. Which was organized by the Ministry of Minority Affairs on 18 December 2020 at Numaish Ground in Panwaria, UP. People from all corners of the country attended Hunar Haat. In which people also enjoyed the traditional dishes. Apart from this, various cultural programs were also presented on the theme of Jaan Bhi Jaane Bhi, performed by famous artists every day. Apart from this, the Kavi Sammelan was organized on 27 December 2020 on the theme "Self-reliant India".
Hunar Haat organized at Jawaharlal Nehru Stadium was organized on 20 February 2021. And when you come to Jawaharlal Nehru Stadium, you do not need to pay any kind of entry fee. A free facility has been provided by the government for you. Craftsmen and artisans are available from every corner of the country in Hunar Haat and have made very rare things available to the people.
People from the country and abroad come to see the talent of India in Hunar Haat, you can also enjoy admiring this talent, for this, you will not have to pay any kind of fee. The event will run from February 20 to March 1 at the Jawaharlal Nehru Stadium in Delhi.