CSC Locator – How To Find CSC (Common Service Center) In Your City
Common Services Centers (CSCs) are a strategic cornerstone of the Digital India program.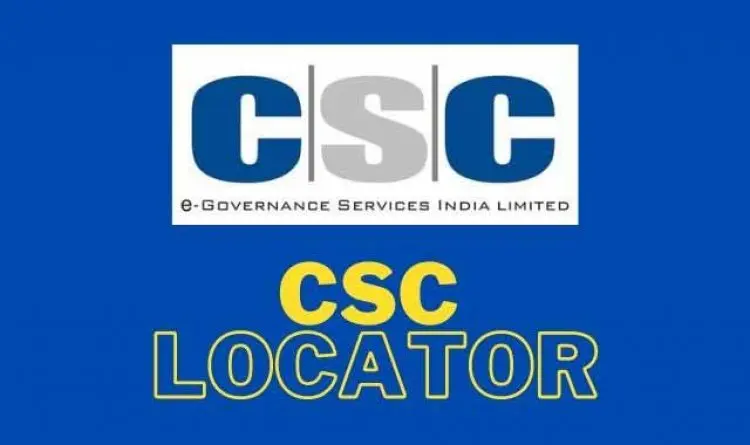 CSC Locator – How To Find CSC (Common Service Center) In Your City
With CSC Locator, You Can Easily Find Your NearestCSC Common Service Center. As You Know You Get The Benefit Of All Types Of Government And Non-Government Services At CSC Common Service Center. If You Want To Get The Benefit Of Any Type Of Government Or Non-Government Service, Then You Need To Get The CSC Common Service Nearest To You. Have To Go To The Center.
But Nowadays It Has Become Much More Difficult To Locate The Nearest CSC Common Service Center In This Digital Age, People Do Not Need To Bother Because All The CSC Common Service Centers Has Been Added To TheCSC Locator By The CSC Common Service Center. You Can Easily Locate The Nearest CSC Common Service Center.
As You All Know That Common Service Center Is Used To Provide Government And Non-Government Services To The Common People, On Which State Government And Central Government Services Are Available. We Are Going To Tell You How You Can Register Your Common Service Center On CSC Locator As Well As If You Want To Find Your CSC Center On CSC Locator Then How You Can Search.
It Is Very Easy To See Common Service Center On CSC Locator, For This Common Service Center, Has Been Added To CSC Locator, All The New Common Service Centers That Are Opened Are Easily Registered Above CSC Locator All Over India. The List Of All The Common Service Centers That Are Open Across The Country Is Listed On The CSC Locator, Which You Can Go Online Through The Process Mentioned Below.
CSC Locator Is A Website Or Mobile Application Where All CSC Common Service Centers Are Displayed As Their Status Can Be Easily Detected By Connecting Each CSC Common Service Center With Google Map.
Latitude And Longitude Of All CSC Common Service Centers Have Been Combined With Google Map Data. With Which You Can Easily Search Your Nearest CSC Common Service Center On Google, Then Your Nearest CSC Center Appears On Google Map With The Location.
If You Run A CSC Common Service Center And Your CSC Center Is Not Visible On The CSC Locator. And If You Want To Add Your CSC Common Service Center To CSC Locator, Then For This, You Have To Update Your CSC Profile Account. Where You Have To Enter Your Complete Address In The CSC Profile, After This You Will Have To Upload The Profile Photo Of Jio Tag Center, The Photo Inside The Shop And The Photo Outside The Shop, When You Enter All This Information, Then Your Center Will Come On Google Map And Appears On The CSC Locator.
How To Link CSC Center On Google Map?
If You Want To Add Your CSC Common Service Center To Google Map Along With CSC Locator. So That More And More People Can Come To Your Shop And If You Have Maximum Profit, Then You Have To Put Your Shop On Google Maps.
To Put Your Shop On Google Map, Follow The Following Procedure.
Open Google Maps First.
Then Login With Your Gmail ID And Password.
Now Click On The 3 Lines Shown Above.
Now You Will See A New Option Below Add A Missing Place Click On It.
Now A Small Phone Will Open In Front Of You.
Here You Enter The Name Of Your Shop.
After This, Select Your Address On Google Map And Specify The Location.
After This, Select The Category Of Your Shop.
Now Give Information About Your Shop's Photo And Opening Time And Website Etc.
After Giving All The Information, Click The Public Button Above And Publish Your Location.
Within 72 Hours Your CSC Center Will Be Added To Google Map.
Now Your Center Will Start Appearing On CSC Locator As Well As Google Map.
Services Available On CSC Center
Taxpayer Driven Organizations CSC – CSC Finder
CSC PMG Disha
Kisan Mastercard
Bharat Net
Tele Law
Digitize India Stage
Monetary Evaluation
Digital Gram Yojana
Computerized Beti Yojana
Legitimate Proficiency
Monetary Proficiency
Bharat Bill Pay
Container Card
Visa
Swachh Bharat Abhiyan
Pradhan Mantri Awas Yojana
Fssai
Soil Wellbeing Card
E-Area
Political Decision Elector Id Administrations
Ujjwala Yojana
Basic Liberties CSC
Online Sign
Apply to CSC Center Online 2020
Computerized Seva Entrance Administrations – CSC Finder
Computerized Seva Entrance CSC
CSC Protection Administrations
Advance Administrations CSC
CSC Financial Registration Service
CSC Banking Entry / Bank BC
Region Chief Versatile Number
CSC Finder
Vale CSC Profile Update
CSC Declaration Download
India Aadhaar Administrations
New Aadhaar Enrollment (State And Locale Office As It Were)
Aadhaar Update And Amendment
Print Aadhaar
Portable Number Update
Address Change
Email Update
The Government of India and the State government released many schemes for the benefit of citizens. And these schemes also help in the development of the country. But many people in every state are not able to get these advantages. Because some citizens don't know about the scheme, they didn't apply it. So, the government has a solution for them i.e CSC.
Common Service Centre as the name shows itself has meant for common people where services related to government has made available easily. With the help of this post, we share details about the CSC Locator Registration 2022 and its procedure. So, if you have also interest to open your CSC then read all the details here. It has also called Jan Seva Kendra.
However, through the Common Service Center people can easily grasp the opportunity and services provided by the central or state government. The government has the aim to uplift the standard of living in our country. Throughout the country, various CSC has opened in every state, and in every district. Any citizen of India can come here and get services, documents, or Yojana's details and also apply under the same.
For opening CSC digital service center, the applicant needs to follow a registration procedure. And also there have some eligibility criteria which they need to clear. Although, the application process has to be made available online by the concerned department. Still, you need that you should have all the necessary details we have given here.
It has also counted as a good option for earning if you have an interest. With a small investment, you can get income per month. Here we, also share details related to CSC Registration benefits. If the village level entrepreneur opens their own CSC center then there have no charges for them for registration. As a result, many candidates have opened Common Service Center for earnings also.
This work has not required much investment. The only investment required is for a few gadgets and things like a table chair, printer, scanner, laptop/ Computer, etc. It has also been helpful for unemployed citizens and poor people. Because by paying minimal fees, they can have the documents or details about the government or non-governmental services.
The government of India has to try to make Indian people also digitally independent. And for the same various steps have also been taken. As a result, lots of people have benefited from the government yojanas. Also, there has a low amount they need to pay for taking these services through the Jan Seva Kendra. CSC has only opened with the permission of the concerned department. And it is also part of the Digital India Making Scheme of the Central Government.
CSC Service Center Services online
Common Services details under CSC
D2H Recharge
Mobile Recharge
Electricity Bill Payment
Mobile Bill Payment
All state SHG lists with ID
Public Grievances Redressal Officer Act
Toilet Form
Mahatama Gandhi Service Center Project
CSC Registration status
CSC State-wise Services
Common Services Centers commonly known as CSCs are a planned foundation stone of the Digital India program launched by our honorable Prime Minister Narendra Modi. These centers basically work as the access points for the release of different electronic services to villages in India, thereby causative to a digitally and monetarily inclusive society.
Common Services Centers are more than service delivery points in villages of India. They are set up to help the village people so that they can access all the required information easily. They are located as change agents and working for the promotion of rural entrepreneurship and construction of rural skills and livelihoods. Prime Minister Mr. Narendra Modi thinks that if village youth get proper information then they will become the future of the country because our villages are full of skills and they just need the right direction. They are enablers of social contribution and communal action for engendering social change through a bottom-up approach with a key center on the rustic citizen.
Common Services Centers are multiple services single point model for offering services for manifold transactions at a single physical location. This center's basic target is to be aware of the rural the current e-Services of the Government of India so that they can also be benefited from these new e-services of govt.
The major focus of these Common Services Centers is also to make aware of basic facilities that they can get where accessibility of computers and Internet is at present negligible or mostly not present. This Common Services Centers plan is the first time approved in 2016 by Prime Minister Narendra Modi to help rural people. The basic purpose of these centers is to promote the Indian village people because Prime Minister Narendra Modi sees the future of India in these village youth.
Govt launch different scheme for people so that every people of the country can avail different faculties and there will no remain without basic things. But all people are not aware of this scheme and they keep away from the benefits of this scheme because of the lack of current technology. Prime Minister Narendra Modi wants that every people can benefit from these schemes, due to which the Government plans to start these centers so that everyone gets aware of new schemes. Govt start these centers with the vision of offering all government services in a reasonably priced, and incorporated manner at the entrance of the citizen.
To attain this target Government of India has planned to start around 100,000 Common Services Centers all over India, mainly taking care of rural areas. Common Services Centers are imagined as the front-end delivery points for government, confidential and social sector services to citizens of India. Further, Common Services Centers will deliver services in the areas of telecom, farming, fitness, education, activity, banking, and financial services, utility payments, etc. Every Common Services Center is predictable to serve a bunch of 6 to 7 villages, thus planning to cover approximately six lakh villages of India and planned to increase this number in future.
Under the project, the thought is to facilitate a stage that will facilitate government, private and social sector association to put together their social and commercial objective and take the reimbursement of information and communication tools to the farthest corners of the nation. Common Services Centers enable society contribution and belongings collective action for social change – through a bottom-up approach having a key center on the rural citizen
Name of the Post
Common Service Center Registration 2022
Started By
The Government of India
Started for
Citizen of India
Benefits
To provide easily online services to users
To create earning medium
This Year
2022
Beneficiaries
People of our country
Official Website
Available here
| | |
| --- | --- |
| Car Loan | NPS |
| ICICI Bank BC | Axis Bank BC |
| Benefit Account Plan NPS Service | Credit Card |
| SBI Bank BC | CSC Locator |
| Loan Services | CSC Banking Portal |
| Aadhar UCL Registration 2020 | CSC Economic Census Services |
| HDFC Loan BC | District Manager Mobile Number |
| CSC Insurance Services | VLE CSC Profile Update |
| CSC Digipay Aadhar ATM Latest Version | New Account Opening |
| Bank Registration Process | Digital Service Portal |